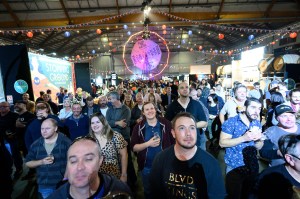 Currumbin Valley Brewing's Grape Bubblegum Sour has won the RateBeer People's Choice at what was a record-breaking GABS Festival.
The festival, which was held in Sydney (1 June), Melbourne (17-19 May) and, for the first time, Brisbane (27 April), attracted 44,500 attendees, a record for each city and for overall attendance. Session 1 at GABS Sydney saw almost 7,000 attendees, making it the largest single GABS session in history.
This year's overall attendance beat the previous record by 32%. Bar staff poured 312,000 individual tasters across all events (averaging two per second), while 22 litres of beer and cider were served per minute.
Over the course of the festivals, attendees were able to sample from up to 170 unique 'Festival' beers and ciders, made exclusively for GABS, along with hundreds of core range and limited release beers from Australia and New Zealand. In total, there were 840 different beers, ciders, wines and spirits on offer across all the events.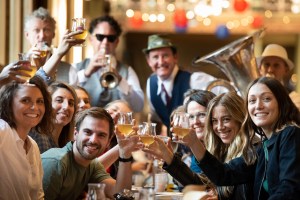 The People's Choice Awards, presented by RateBeer, offered attendees the opportunity to vote for their favourite Festival Beer, Cider and Vendor at each event.
Grape Bubblegum Sour from the Gold Coast's Currumbin Valley Brewery was the Rate Beer People's Choice Festival Beer for 2019, a 5% ABV Berliner weisse-style beer. Inspired by Hubba Bubba's Groovy Grape-flavoured bubblegum, the beer poured a deep purple colour and had tasting notes that included "the taste of your chewy childhood".
"We're completely overwhelmed by it," says Pete Wheldon, co-founder of Currumbin Valley Brewery. "It's a dream come true. I've been going to GABS as a punter since 2014. It's a life bucket list thing."
The inspiration for the beer came to co-founder Luke Ronalds a few years ago, but it took many attempts to perfect the recipe.
"I thought it would be a really great flavour to pair with the sour beer," Ronalds explains. "It's a flavour I loved as a kid as well. . One of my mates in my homebrew club said it reminded him of sitting in his treehouse smashing a hubba bubba.
"It was very tricky to nail the flavour, we spent a lot of time doing it. We spent the most time getting this beer tasting right. It was a real slow process. The whole process was a lot of fun. We sometimes went way overboard and then underboard."
RateBeer People's Choice Festival Cider went, for the second year running, to Tasmania's Devils Brewery with their 'Grandma's Apple & Rhubarb Crumble' made with fresh Tasmanian rhubarb and freeze distilled, continuing on the theme of 2018 winner 'Grandma's Jam Cider'.
Favourite food vendors across each event were King Of The Wings (Brisbane), a tie between Biggie Smalls and Donugs (Melbourne), and Bovine & Swine (Sydney).
"Given that this was the first beer to sell out at GABS Brisbane, and had been a top trending beer on RateBeer throughout the festivals, it comes as no surprise," comments Tiffany Waldron, RateBeer brand manager. "Massive credit to the guys at Currumbin – up against some awesome, weird and wonderful beers from the top brewers around Australia – and it's got an overall score of 98 on RateBeer!"
GABS has also announced that Yenda's Ferris Wheel of Beer raised $20,000 for Fight MND. Over the last four years, people riding the Ferris Wheel have helped to raise a total of $65,000 for the charity.
The final GABS of 2019 will be held in Auckland on Saturday 29 June.