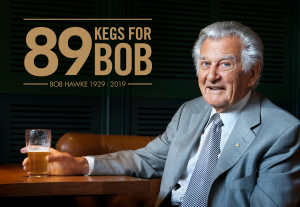 By Andy Young, The Shout
Following the state memorial service that took place on Friday 14 June at Sydney Opera House for Bob Hawke, the beer company created in his name has launched a month-long initiative to celebrate the life of the former Prime Minister.
Hawke helped launch Hawke's Brewing Co in April 2017 and for the next month the brewery is donating 89 free kegs of its Patio Pale Ale to 89 venues in Sydney and Canberra. One hundred per cent of proceeds from beer sales being donated to Landcare Australia, the environmental charity established by Hawke in 1989.
Hawke's Brewing Co. founders, Nathan Lennon and David Gibson said: "When we first met with Bob, we made a promise that we would build a company that gave back to the country we love. On the spot, Bob insisted that 100 per cent of his royalties be passed on to support Landcare Australia.
"We're simply asking people to share this spirit of generosity by buying a beer (or two), knowing all of their hard earned is going to a good cause. The more they pay, the more Australia benefits. It's what Bob would have wanted."
The initiative has targeted 89 venues to pour 89 charity kegs over the next month, with 50 already signed up. The company expects to raise a minimum of $50,000 but hopes to reach its target of $100,000.
The total depends on how much drinkers choose to pay. All of which will be donated towards Landcare Australia to support Landcare projects that will help save threatened Australian species.
It was Bob Hawke's vision to protect the environment for future generations that led to the formation of Landcare Australia, with 20 July, 2019 marking the 30thanniversary of the not-for-profit organisation.
Landcare Australia CEO, Dr. Shane Norrish, said that Landcare owes much to the vision of the late Bob Hawke: "He was a champion of the movement since its inception, and he remained a strong advocate and supporter of the Landcare community throughout his life. 
"His legacy to protect the environment is that Landcare has evolved to become one of the largest volunteer movements in Australia, with thousands of people and countless communities working together to solve local environmental issues that benefit all Australians."
At the time of Hawke's Brewing Co. launch in 2017, Mr Hawke said: "I hope the efforts of this company will not only bring good friends together over a cold beer but also help raise awareness of the great work done by Landcare Australia and the land care movement across Australia."