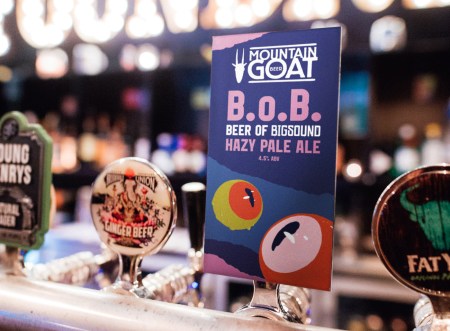 Mountain Goat has brewed a beer exclusively for the Bigsound Festival and Conference in Brisbane, Australia's leading annual new music festival and industry conference.
The BOB: Beer of Bigsound Hazy Pale Ale was brewed exclusively for the festival under the watchful eye (and palate) of programmer and Aussie music industry figure Maggie Collins, who took a quick break from booking bands and speakers and headed down to the Mountain Goat brewery in Melbourne to get her hands dirty.
"In my years as an avid beer drinker, I thought I had a good grasp on my brewing knowledge," said Collins. "That is, until I rolled up my sleeves and got in there to crack open a bag of malt, popped some hops in a kettle and watched the magic happen. Yeast is a beautiful thing."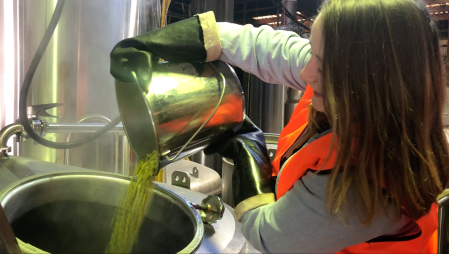 BOB Hazy Pale Ale features a malt bill of Pilsner and Wheat malts, supported by tropical fruit aromas and flavours courtesy of Mandarina Bavaria and Calypso hops. The light coloured, full-strength (4.5% ABV) beer is extremely quaffable with a mild bitterness (24 IBU).
"I've always considered music to be the fifth ingredient when making great beer," said Mountain Goat brewer Shane 'Naz' Edwards. "First job in the morning is to select the day's soundtrack, then the brewing can begin so it's great that we've been able to create a beer for Bigsound."
IN addition to the Goat Bar, you can find a full list of venues where BOB Hazy Pale Ale will be pouring around Brisbane here.
Bigsound runs from 4-7 September in Brisbane's Fortitude Valley Live Music Precinct; tickets and passes are still on sale at www.bigsound.org.au