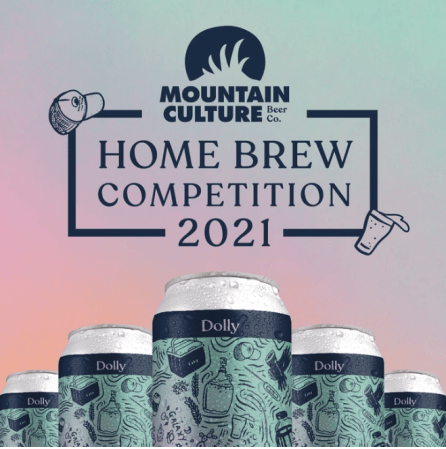 Greater Sydney's lockdown has allowed Mountain Culture Beer Co the time to finally realise a long-held plan to hold their own all grain home brewing competition, where they supply entrants with all the ingredients and instructions to make the brewery's soon-to-be-released double dry-hopped IPA Dolly. Depending on the popularity of the initial event it's something the Katoomba-based brewery want to see become an ongoing fixture.
Located in the Blue Mountains, but still classed as part of the Greater Sydney region that's currently in extended lockdown, Mountain Culture's plans of imminently starting to brew at their new Emu Plains production brewery are now on hold. The final stages of the build were already stymied as specialist Brisbane-based tradespeople weren't able to fly in to work on the refrigerated piping for their fermentation vessels. And now, due to the Greater Sydney shutdown of all construction, things have now effectively ground to a complete halt.
But having become old-hats at this lockdown game following last year's initial stay-at-home orders, when they were but a fledgling brewery who decided to put all their beer in cans and for sale online (boy, did that work), founders DJ and Harriet McCready, and their colleague Pat Thiering, have again capitalised on some rare down time to launch the competition.
"It's been in the works for a really long time, it's always been something that we wanted to do," DJ told Beer & Brewer. "We've prided ourselves on having a lot of engagement with our customers. So we're always doing virtual tastings, we try and do as many events as we can, we personally try and answer anybody's question who's interested in what we're doing. And time-and-time again we keep hearing that people want us to share our recipes and brewing practices.
"I started out as a home brewer, Pat started as a home brewer, most of our folks on the brew team all started out home brewing. So it's something that we're really interested in and we're really engaged in.
"But with things usually hectic for us, it's taken us a while. But during this lockdown we were like 'this is a good time, let's do some of the things that have been on hold'."
A $99 competition pack includes the recipe for an all grain 20 litre batch (suitable for a Grainfather, a Braumeister, BIAB or stovetop brew), all ingredients (including Citra (Mountain Culture-selected from Yakima Chief) and Galaxy (HPA) hops, Verdant powdered dry yeast and brewing salts) plus a booklet with comprehensive instructions and a PET bottle to send the entry in.
The same beer that entrants will be making is currently in the final stages of fermentation at Mountain Culture, and for an extra $44 a four-pack of the Dolly DDH IPA (circa 7.0% ABV) will be sent out with the home brew kit.
"I'm not sure if anybody's done this (home brew competition concept) before," DJ said. "I just thought it would be a really neat way to engage with people, to say 'these are the practices that we're using on our kit at Mountain Culture' and give people the opportunity to try and recreate some of the beers that we're making. I'd like to see it become a regular thing.
"So we're releasing the kit with the beer that everybody will be brewing at the same time, so entrants will be able to taste our beer as they make their beer.
"One of the annoying things I found when home brewing is you would be making the beer and you don't really know how it was going to turn out and you're having to wait a month-plus to try and get a sense of it. So I thought it would be really cool for people to buy a four pack of it and the kit and sit there and have beers while they're making it and go 'oh yeah, this is what's going to become of this'."
"So that's our aim, to just shed a little more light on what we're doing with our recipes; of how they're put together; and then bringing that to a scale that people can make at home."
There are five yet-to-be-determined "official" prizes up for grabs for: the overall champion; the runner-up; best design; best name; and best hop expression, while DJ added there would most likely be a series of "unofficial prizes too that may or may not include best ukulele song" when the virtual awards night is held on October 10.
Head here for all the competition details.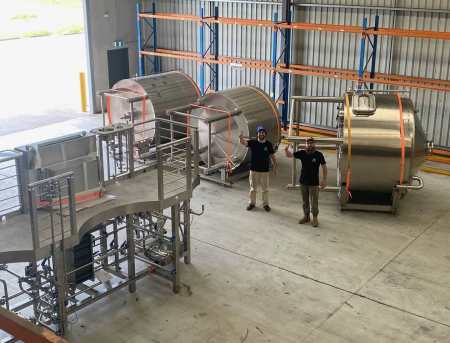 Emu Plains update
Earlier this year Mountain Culture made the decision to establish a new production brewery in Emu Plains – about a 40 minute drive east from their base in Katoomba – where they could realise their significant growth ambitions. They took on a sizable factory to house a new 25 hectolitre brewkit but to also allow for significant future growth as required.
Until the current lockdown was applied to Greater Sydney DJ said they were basically on track to be brewing their first batch at the new facility in the "next week or two".
But due to the aforementioned refrigerated piping delays (they had since trained local tradespeople up with the required skills) and the construction work shutdown that start-up date is now delayed.
But despite the frustration of not being able to start crossing names off their long waiting list of wanna-be stockists just yet, DJ was thankful, in part, to not already having things up and running.
"(Lockdown is) a pain in the arse, but luckily we're still that nimble size where (the beer) can all just go back online.
"It is a kick in the balls though (to not be able to complete work at Emu Plains yet). We've constantly got people hounding us for beer and over the last six months we've just had to keep putting people on waiting lists and telling them 'look, we're not doing this to drive hype, we just don't have the product right now'."
With uncertainty around, due to, as Dj puts it, "people thinking 'will our city be next in lockdown?'", they've witnessed some hesitancy around interstate keg sales. But that hesitancy isn't being matched by their online customers, who are now reaping the rewards of Mountain Culture "pretty much canning every drop (they're) making right now" .
"We're now in that fortunate position, having already adapted to a state of lockdown before, where we've just kept that going. The online presence is really strong."