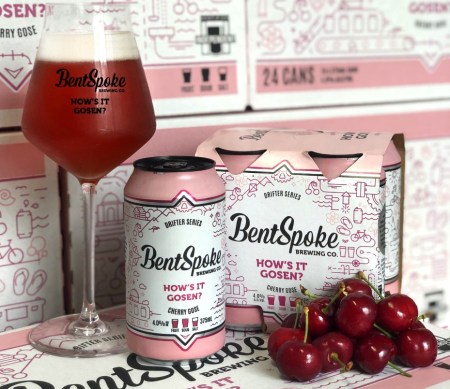 While many would find the challenge of producing sours the traditional way – using bacteria to create the tartness – all too difficult, it is worth it when done correctly and BentSpoke Brewing have achieved that, in a typically BentSpoke way, with their latest Drifter Series release.
The How's it Gosen? Cherry Gose (4%) is available nationally from November 3 and perfectly lives up to one of the Canberra brewery's tenets of "taking the adventurous route".
"BentSpoke has been working to produce sours the traditional way using bacteria to create the acid or sourness," BentSpoke's co-founder and head brewer Richard Watkins said.
"These are not easy beers to brew so we couldn't be more happy with the quality of this beer."
It's a light, dry easy drinker, where the cherry aromas and flavour (from real Australian cherries) are well restrained. Despite that subtlety, there is a real tart zing before the true to style saltiness calms the palate, making this perfect as an afternoon refresher for the ensuing warmer weather.
It's the second version of How's it Gosen? with the first variation beginning its life on tap at BentSpoke's Braddon venue before appearing in cans as a passionfruit and mango Tropical Gose in late 2019. Both versions will be on tap at the BrewPub this Summer.
Go and get some before it gosen!