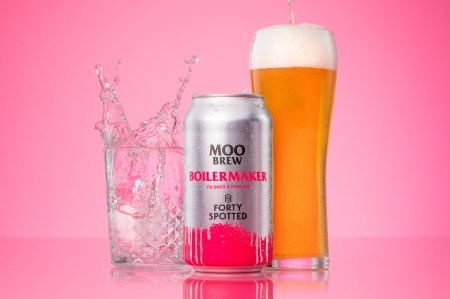 MOO BREW & FORTY SPOTTED BOILERMAKER:
PILSNER X PINK GIN (5.5%)
Nowadays, chasing a whiskey with a beer, or a whiskey and beer boilermaker, is relatively common place. Moo Brew and fellow Tasmanians Lark Distillery even canned the latter late last year in their IPA and single malt whiskey release. It sold out via Moo's online store in a brisk 45 minutes.
But pink gin and Pilsner together, like Moo and Lark's gin offshoot Forty Spotted have just done, is a little harder to find the origins for.
The closest we can associate it with is the traditional Dutch spirit and beer chaser the kopstootje – or little headbutt – where a shot of genever, a somewhat associate of gin, is followed with a gulp of Pilsner.
Found in almost every bar in the Netherlands, the little headbutt combination of flavours is said to complement and enhance each other while the separate elements remain distinct. And that is certainly the case here.
There's no sign of the pink hue of the gin so it's all Pilsner in the glass where the Bojos and Malz barley varietals, that are grown in Pilsen, distinguish its style.
Rising dough, hop fruitiness and fresh earth of the Pilsner mix with the rose water, caraway, cedar and citrus of the gin on the nose.
Then the combination of the two turn this in to a wholly unique drinking experience, where the beer and botanical characteristics work together and independently of each other before finishing light, dry and crisp like the classy Pilsner Moo's rendition is.
A Liverpool kiss type of headbutt this isn't. More like the delicate touch of foreheads and noses of the Maori hongi here.
Photo credit: Mona/Jesse Hunniford. Image courtesy of the artist and Mona, Museum of Old and New Art, Hobart, Tasmania, Australia