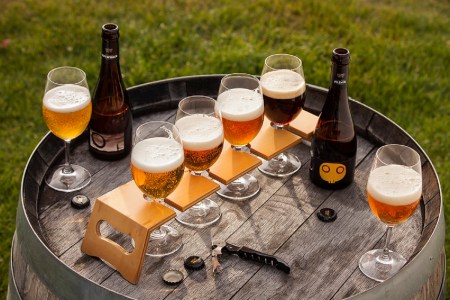 Moo Brew is set to open a new venue and nano-brewery in the Salamanca area of Hobart by the end of this year.
On signing the lease, Moo Brew general manager Lauren Sheppard said in a statement: "As you'd expect from a brewery whose origin story began with the bottle, Moo Brew doesn't always take the obvious route. Opening a venue is the next stage of our journey, and we could not be more excited to be doing it in Salamanca, and doing it our way."
In the statement, Moo said it would be "developing an unconventional venue to match its unconventional beers" and "provide Tasmanians and tourists alike with a taste of (the Museum of Old and New Art) in the city".
The move to open what Moo say will be part taphouse and part bar marks the brewery's first hospitality venture away from the Museum of Old and New Art (Mona) since founder David Walsh established it in 2005.
The venue will be located close to the Brooke Street Pier – home of the Mona Roma ferry terminal – and Moo said it was hoping to be open by the end of the year, approvals permitting.
Moo said the in-house brewkit will produce limited releases while the venue will be pouring their core beers also. It will also serve wines from their Moorilla and Domaine A brands alongside food and other beverage options.