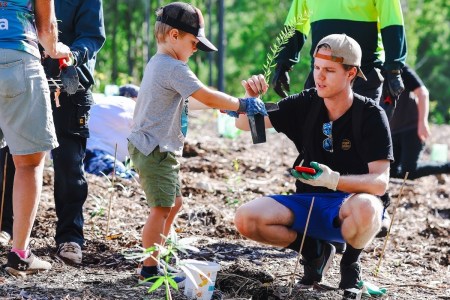 Having run grants programs in their Northern Rivers region for the past four years, Stone & Wood's charitable organisation the inGrained Foundation is launching a Brisbane Large Grants Program with a $100,000 funding pool offered in its inaugural year.
With an aim to support a diverse range of organisations, Brisbane not-for-profits with deductible gift recipient (DGR) status are encouraged to apply for a grant between $5,000 and $25,000 to help them continue the amazing work they do within the wider Brisbane community.
For their first Brisbane Large Grants Program, inGrained are seeking to support projects that fall into the following categories:
 Conservation of natural resources and habitats
 Action on climate change
 Mental health and wellbeing
 Accommodation and homelessness
 Inclusion and diversity
To be successful, applicants must operate within one of these categories and be able to provide information on how the inGrained funds will have a tangible outcome for the community.
James Perrin from the inGrained Foundation said of launching the Grants Program in Brisbane: "After running grants programs in the Northern Rivers for the last four years, we are so excited to be expanding to the Brisbane community, just as Stone & Wood did a few years ago.
"We encourage applications from a wide range of social and environmental organisations in the region and look forward to hearing about the incredible work we can support."
Founded as a separate not-for-profit by Stone & Wood Brewing Co (Fermentum Group) in 2018, the inGrained Foundation works to attract, generate and direct donations to grassroots charities.
Earlier this year, the inGrained Foundation held their fourth Northern Rivers Large Grants program where they donated over $200,000 to 10 organisations. Recipients of the 2022 Northern Rivers Large Grants were: Autism Camp Australia, Bangalow Koalas, Coolomon Community, Green Heroes, Human Nature Adventure Therapy, Murwillumbah Community Centre, Rainforest 4 & Halfcut, REDinc, The Shift Project and Zero Emissions Byron.
From Monday 15 August, Brisbane social and environmental not-for-profits with DGR status are encouraged to read the guidelines and apply before Friday 9 September, by visiting www.ingrainedfoundation.com.au.
This is an edited version of a media release distributed by Stone & Wood.