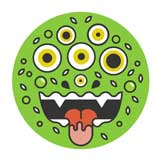 Melbourne brewing brothers Callum and Nat Reeves have enjoyed solid success with their initial brews under the Monster Mash label. However, with success comes getting noticed – and the pair have received a 'cease and desist' letter from Monster Energy Drinks.
Rather than enter into a lengthy, tedious (and expensive) legal battle to use the name, the boys have decided to change the brewery name to KAIJU! – it's Japanese for 'Monster'.
Look out for their new labels, and a new IPA called Metamorphosis.