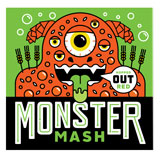 Victorian craft brewers Monster Mash have revealed the latest in their arsenal, called the Hopped Out Red a red ale, with an American Ale-like hop blast, according to Monster Mash Chief Boss Callum Reeves.
Not content with brewing the usual crowd-pleasers, the Reeve brothers have followed up on their first barn-storming release (a double IPA that tipped the scales at 9.1% ABV), the Hopped Out Red doesn't pull its punches either.
Packed with an almost overwhelming burst of flavours and aromas, the Hopped Out Red comes in at 6.4% ABV and is available in 500ml bottles from selected distributors, including Slowbeer, Camperdown Cellars and Purple Palate.