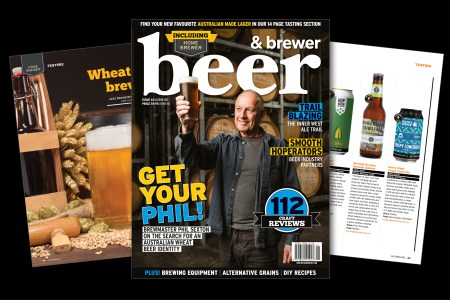 Getting into gear for a new year of beer, our Autumn issue is out now and ready to see you through another season.
With Matilday Bay's Phil Sexton gracing our cover, we chat with him and a bunch of other brewers about where the wheat beer category fits in the diverse Australian craft landscape. We also come at wheats from every angle across 15 pages of coverage dedicated to them, including their history and modern evolution, but also how to savour them and brew them better while we road test a few recent releases we consider are worth your while tracking down.
You can subscribe or buy a back issue here or find this issue in newsagents and home brew shops.
Take a look at just some of what's inside the Autumn 2023 edition:
Also this issue:
112 craft beer and cider reviews with an overarching focus on Australian lagers.
A dedicated HomeBrewer section full of expert advice, recipes, local news and more.
A definitive guide to Sydney's Inner West Ale Trail and the 13 breweries along its route.
Our resident pro brewer Steve Brockman from Brightstar takes a deep dive on brewing with alternative grains.
Sensory analyst Briony Liebich looks at traditional wheat beers and how to approach tasting them.
Brick Lane and Hiatus Beers – non-alc producers from different ends of the volume scale – discuss insights and opinions on the growth in the category.
We track down plenty of new stainless toys and the brewers using them, alongside the suppliers supplying them.
The people behind KlippaKan, GABS Festival, Kaddy, Konvoy and Craft Instinct chat about the importance of partnerships with craft breweries.
And plenty more!
Subscribe to Beer & Brewer's quarterly magazine for as little as $29.50 a year.