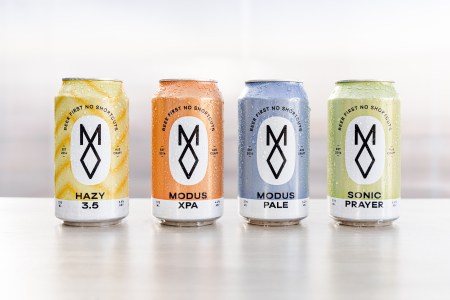 Modus Brewing has unveiled new branding across their core range of beers following its Merewether brewpub recently winning the Australian Institute of Architects Newcastle Medal – the region's highest architectural honour.
Modus' founder and owner Grant Wearin said to match the aesthetic of the new brewery venue a new "elevated" design approach for their beers was imperative.
"Modus has always prided itself on being at the forefront of innovation and seriously good liquid. Our new brewery is ticking all the quality and sustainability boxes we've always dreamt of. Now is the perfect time for the brand to evolve our on-shelf presence with updated packaging."
As well as winning the Newcastle Medal, the Merewether venue, that opened late last year, was also commended in the Institute's sustainability category and the Colorbond Award for Steel Architecture.
Jury chair Cherry Parsons said Modus had created "a place that you want to be".
"(It's) a wonderfully conceived juxtaposition of hospitality venue, brewery experience and production facility. Cleverly blurring the lines between internal and external space and patron and production space through the use of giant polycarbonate clad sliding doors, the architects have delivered a unique and varied patron experience whilst seamlessly facilitating complex production requirements," she said.
Grant added: "We have spent the last two years building a state of the art facility and brewery venue from the ground up where quality assurance and sustainability are on the cutting edge. (To win the Newcastle Award) is humbling and reflective of the time, effort, (fellow founder and wife Jaz Wearin's) vision and passion we have put in as a whole team".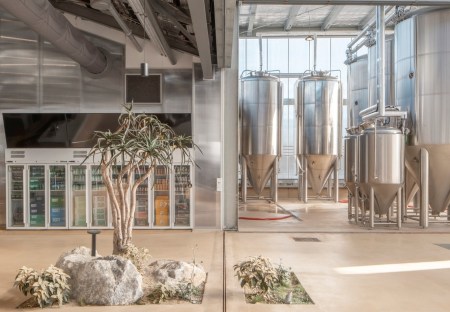 The packaging and new branding was designed by Mebourne-based Alter, who worked closely with the Modus team in achieving their new vision for the brand. The rebrand also extends to new cartons and clusters as well as a refined logo and messaging to welcome Modus' enhanced sustainability credentials.
Modus' Merewether production facility has welcomed a new Krones packaging line which is capable of 10 times their previous packaging capacity. As well as catering to their own products, Modus is also now offering partner brewing services in bottles or cans across beer, seltzers and non-alcoholic beer.
"We currently have five million litres available to us for our family of brands… however we are able to turn on an additional five million litres for future NPD as well as partner brewing," Grant said.
"We have really dug deep on our newest brewery to future proof us for years to come alongside an incredible venue."
The new look Modus XPA, Modus Pale, Modus Sonic Prayer IPA and the newest SKU to the family Modus Hazy 3.5 will be available from December across the country.