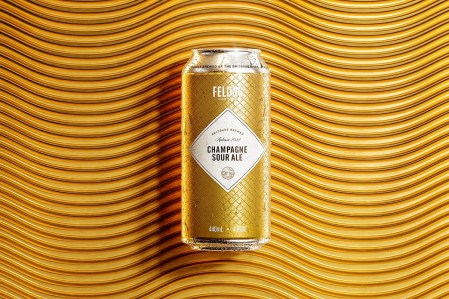 In anticipation of a Summer worth celebrating in style, Felons Brewing have canned their two-time gold medal winning Champagne Sour Ale as their fifth and final limited release for 2022.
Fittingly debuting in gold labels and made with the addition of sparkling wine yeast and Hallertau Blanc and Nelson Sauvin hops from New Zealand, its packaged run is limited to just 7,000 440ml cans and is available from November 24 via Felons and in select stockists.
The 4.8% ABV sour's first gold came at the 2021 Australian International Beer Awards before it repeated the feat at the same competition this year.
"Get your hands on it quick as it has a history of being the fastest selling beer on tap in our venues," brand director Dean Romeo said.
"I couldn't think of a more fitting beer for refreshment and celebration during the Summer months in Queensland. When we first brewed Champagne Sour Ale, a few members in the brewery recommended it become a part of our core range and after winning its second gold medal this year we were convinced it was the perfect beer to conclude our 2022 limited releases."
Brewery director Tom Champion added: " By utilising a variety of different ingredients, we've been able to push this beer into an exciting and new category. For this release we mixed sparkling wine yeast with NZ Hops varietals to create a delicate vinous aroma with a crisp and refreshing finish – all accented by the familiar tingle of fine, spritzy bubbles.
"Pouring like a fine wine, this light beer perfectly balances crisp, tart flavours with a fine beaded texture."