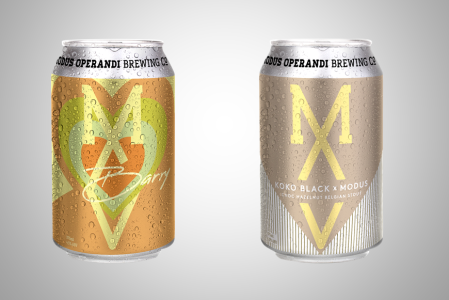 MODUS OPERANDI BARRY WITBIER (4.5%, 375ML) & KOKO BLACK X MODUS OPERANDI CHOC HAZELNUT BELGIAN STOUT (6.9%, 375ML)
Modus might be operating at opposing ends of the colour and ABV spectrums with their new pair of limited edition Belgian releases but the beers are intrinsically similar in their quality of execution.
Barry, that's out now, is your classic Belgian white, pouring hazy and an almost milky sunny honey colour with a chunky all-white head that sinks to a thick cap. The nose is enticing in its complexity with light malt sweetness and swishes and licks of floral herbs and spice and honey and citrus. With a semblance of clove those characters are marched across the palate via a lively carbonation for an incredibly refreshing and rewarding experience. Who said lagers were the only lawnmower beer?
What certainly isn't a lawnmower beer is the Choc Hazelnut Belgian Stout because a few of these will literally mow you down. Made in collaboration with Melbourne-based artisan chocolatiers Koko Black this is an official beer of that good city's Good Beer Week that's on now until May 23. The beer is officially released tomorrow (May 18).
For all of Barry's zesty traits this is its antithesis, with a rich, decadent and well-rounded nose and an alluring body to match. Pouring very dark brown, almost black with a creamy tan head, the enticing toasty nutty aromas are reminiscent of Frangelico with dusty milk chocolate, dark fruit esters and an alcohol presence that all scream out to be savoured. Creamy, almost liquid milk chocolate characters are up front before some clove spice, dark chocolate and coffee bitterness, plus more toasted nuttiness, all lend a dryness that balances this from being too sweet. It remarkably also aides it, despite all of its malt-driven nature, to be relatively light on the palate.
The Choc Hazelnut Belgain Stout is available at Modus' Good Beer Week Hub at Good Heavens Rooftop and on tap at GABS Melbourne May 21 – 23 via The Hound – Modus' 12-metre long renovated Leyland bus. Also at GABS this weekend Modus along with Koko Black's head chocolatier and product Innovator Remco Brigou and The Beer Diva Kirrily Waldhorn will be hosting a chocolate and beer pairing masterclass.