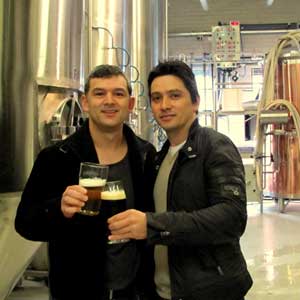 FIRST OFF, CONGRATULATIONS, AND HOW DID IT FEEL TO SCORE CHAMPION SMALL BREWERY AT THIS YEAR'S AIBA?
Thanks! Yes we were ecstatic and very grateful to win the award. It is a large competition and the judging is conducted very rigorously. It's also very humbling to receive this kind of credit considering the excellent quality and quantity of beers that other small Australian breweries are producing today.
HOW DID YOU GUYS GET STARTED IN THE BREWING INDUSTRY?
Both Dave and I followed unrelated career paths until the early 2000s. We both spent a number of years working in the United States where we came to enjoy the diverse range of small batch, independently produced beer that was widely available. When we returned to Australia, we missed the variety and also saw a potential market opportunity. We also happened to both be ready for a career change, and in 2005 committed ourselves to starting a small commercial brewery. Not having any industry knowledge and with few commercial examples to study in Australia, we had a massive amount of research and planning ahead of us.
At that point we parted ways – I went back to America. With its abundance of small breweries, it seemed like the right place to go to get the groundwork done. Dave stayed in Melbourne to get a grip on the multitude of compliance issues that needed to be satisfied, along with finding a suitable site. During my time in America, I joined a homebrewing club called the Cascade Brewer's Guild and through them passed the BJCP examination to qualify as a Certified Beer Judge. I also completed the Graduate Certificate of Brewing course remotely at Ballarat University – sometimes leaning on resources at the University of Washington and the University of British Columbia.
A fellow Aerospace scientist happened to be the owner of Diamond Knott Brewery (Seattle, Washington). Brian Sollenberger kindly took me under his wing and introduced me to the practical side of craft brewing and the technicalities of a microbrewery set up. I spent many hours as a volunteer at Diamond Knot Brewery and will always be grateful.
WHAT SORT OF BUSINESS DO YOU RUN AND CAN YOU GIVE US A SHORT HISTORY?
Our brewery is a combination of microbrewery (wholesale small batch production) and beer hall. The Beer Hall opens to the public Thursdays and Fridays – it's not a pub, and you won't be able to buy a triple skinny latte cappuccino while the kids paint their faces. We offer simple beer food, full bar service, live music and our range of beers dispensed directly from the tank. The rest of the time, the site is dedicated to producing beer. On weekends we host private functions.
There's a bit of a history to our brewhouse. Instead of asking the bank for a bunch of cash, Dave and I took a longer and somewhat more risky approach. Part of my task in Seattle was to find a good quality secondhand brewing system. After six months of searching, I got in touch with Times Square Brewery, Manhattan – the business was bankrupt and being wound up. When the dust settled the Walt Disney Corporation had bought the assets in order to take over the lease for the prime Manhattan retail space. So we negotiated to buy the equipment from Disney.
Then we just had to move five shipping containers worth of heavy equipment from the heart of Times Square back to Melbourne. Hurdles included traffic compliance with the City of New York and their refusal to permit our heavy haulage trucks past the New Jersey Bridge, a trade union standoff due to our welding and crating trades not being ticketed, and noise complaints from the accounting firm on the floor above which restricted our building access. Not to mention the fact that the brewhouse was sitting on the third floor and wouldn't fit through the front door.
The beer gods shone upon us and with the help of friends, family, more money and some extra good luck, the system was relocated to our Moorabbin Brewery. Our first beer was sold in 2007.
WHAT EQUIPMENT ARE YOU CURRENTLY RUNNING IN THE BREWERY?
Our equipment was manufactured by Specific Mechanical Systems. The first vessel in the copper clad brewhouse is a combination mash tun/kettle fitted with steam jackets and mixing paddle. This allows us to incorporate several temperature steps into our mash program. The second vessel is a combination lauter tun/hot liquor tank fitted with mechanical rakes and plough. Specific Mechanical Systems manufactures beautiful equipment that makes brewing a pleasure, and despite having second hand gear we still get first class support.
WHAT IS THE BREWERY'S CAPACITY IN HECTOLITRES AND HOW MUCH HAVE YOU EXPANDED SINCE THE BEGINNING?
We can make about 36 hectolitres of beer per week. We've added a couple of fermenters since we started. Most of our expenditure has gone into building redundancy, robustness and repeatability into our process. We've been at capacity for a while now but we've chosen to forgo further expansion and growth in favour of trading with a small but carefully selected set of wholesale customers.
WHAT INSPIRES YOU WHEN YOU'RE CREATING RECIPES?
Inspiration often comes from our travels abroad. We've always looked for styles that are not locally made at the time. We like to innovate, providing the final product is approachable enough for the ordinary person, so for that reason we'll never make an American Pale Ale.
WHAT ARE YOUR BEST SELLERS/ OLD FAVOURITES?
Taxi, which is made to Munich Helles specifications and Kung Foo our hybrid Rice Lager definitely have the broadest market appeal, though we think the industry views Growler American Brown as our flagship beer. And James (Belgian) Brown would definitely be our most popular specialty beer.
ARE YOU WORKING ON ANY LIMITED RELEASES OR HAVE YOU HAD ONE ON THE MARKET RECENTLY?
We don't have capacity to introduce anything new right now. But our recent single batch beer The Magic Pudding was well received at the 2013 GABS – taking third place in the popularity stakes. It's a dessert beer, with a Barley Wine-base that was dry spiced and herbed the Colonel's way.
WHAT SORT OF REACTION DO YOU GET TO YOUR LIMITED RELEASES?
We haven't mastered the art of promoting limited releases, and because we mainly focus on draught beer, our seasonals are only available at a small number of retail outlets. We generally get good feedback, but are always open to suggestions. Our Voodoo Baltic Porter and Guvnor Extra Strong Ale won AIBA trophies for Best Victorian Beer in 2010 and 2011 respectively.
DO YOU HAVE ANY HOBBIES OUTSIDE OF BEER? WHAT ARE THEY?
I like catching fish, playing music, and anything with wings and an engine, but a small family expansion has bumped all that off the program (for now).
2 Brothers Brewery
4 Joyner St.
Moorabbin, 3189 Vic
Open Thursday 4pm-10pm and Friday 12pm-12am
(03) 9553 1177 – beer@2brothers.com.au
www.2brothers.com.au
www.facebook.com/2brothersbrewery
Tours of the 2 Brothers Brewery are run every Thursday night at 6.30pm and are free of charge.