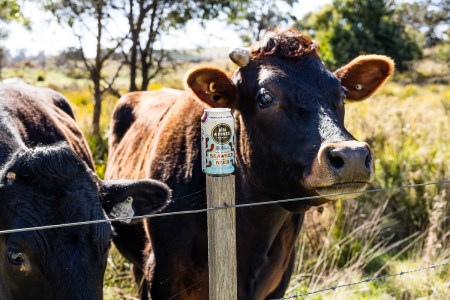 Following on from their successful Japanese Style Lager, 4 Pines Brewing are once again turning to The Land of the Rising Sun for beer inspiration but this time in support of giant kelp forests in Tasmania.
Due on shelves October 9, the brewery's new Why Is There Seaweed In My Beer? Tasmanian Pilsner features a small amount of nori seaweed most commonly found in sushi and has been launched to promote and help fund the climate change solutions of science-based environmental technology company Sea Forest.
Through their non-profit Sea Forest Foundation, the company is working with the Institute of Marine and Antarctic Studies at the University of Tasmania to restore Tasmania's endangered native giant kelp forests which are a vital part of the marine ecosystem.
From cultivating the native to Australia methane-reducing seaweed asparagopsis, Sea Forest have also brought to market the seaweed-based supplement SeaFeedTM. Sea Forest said livestock whose diets contain 0.2% of the supplement, will have methane reductions of up to 98%. They said around 15% of global greenhouse emissions come from livestock production.
4 Pines will be making a donation through its existing '1% For the Planet' funds to the Sea Forest Foundation. It also said it was exploring the possibility of a trial combining spent grain from their Brookvale brewery and the SeaFeedTM supplement.
4 Pines' environmental and social impact advisor Sarah Turner (pictured above) said: "We heard about the good work Sea Forest do and were excited to explore how their innovative solution to address climate change by reducing agricultural emissions could be supported and promoted by the brewing industry.
"That's why we created Why Is There Seaweed In My Beer?, which is our way of celebrating Sea Forest's innovative solution to climate change. We're very pleased to encourage awareness and discussion of Sea Forest's mission."
Sam Elsom, Sea Forest's CEO (also pictured above), added: "Many important conversations have taken place over a beer and through the collaboration between 4 Pines and Sea Forest, we are excited to empower beer drinkers to learn more about the role methane plays in the climate challenge".
Head here to find out more about the 4 Pines and Sea Forest partnership.