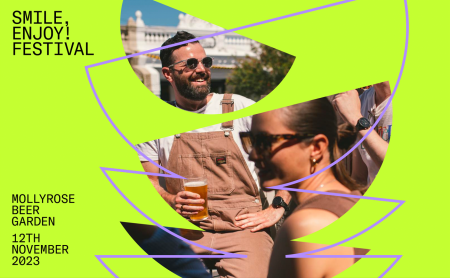 It's time to Smile, Enjoy! From the moment that Molly Rose opened its new expanded venue earlier this year it has been celebrating great beer and wonderful food. Now, founder Nic Sandery and his small team have decided it's time to throw a party to shine a spotlight on their love of pairing thoughtful beer with delicious food to create those amazing sip, bite, bite, sip, sip moments that can fill you with pure joy and simply make you smile.
At the Smile, Enjoy! Festival on November 12, the Molly Rose Beer Garden will be filled with a mixture of Nic's favourite breweries from around Victoria and across Australia, each selected for their own unique style of brewing and passion for supporting and celebrating local community and producers. The big question now is which chef, restaurant or marker of fine food will they pair up with to create their own sensational beery foody pairing? The options are endless!
"I am really lucky that my career has taken me around the country and that I can call some of the best brewers in the country friends," Nic said. "When I was curating the breweries for Smile, Enjoy! I was able to text, email and call five mates who all said 'yes' straight away and we ended up with a list of brewers who are going to bring a stellar lineup of beer."
At the centre of the festival is a dedicated team determined to create a festival that leaves little to no footprint, only smiles. Teaming up with Plumm glassware has meant that everyone receives a special branded Plumm steamed glass to enjoy during their session, at the end they can either buy it for $15 or hand it in to be reused next year.
The merchandise is also running a little differently by aligning with The Common Good Company to produce sustainable and ethical festival tees. People can only pre-order a tee to be collected at the festival when purchasing their tickets, this way reducing the waste of people taking a "free" tee home that sits at the back of their cupboard and becomes a waste product.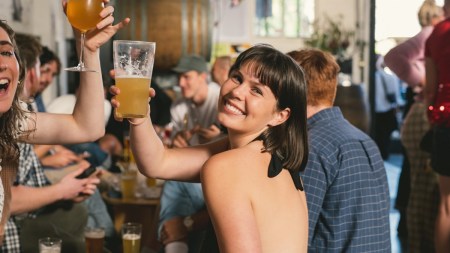 "At Molly Rose our aim is to exceed everyone's expectation of beer," Nic added. "So, when it comes to a beer festival we want people to be pleasantly surprised from the start to finish. From a thoughtful glassware selection to minimal waste food service and obviously incredible beer and food pairings."
As a little added experience on November 11, Molly Rose and The Crafty Pint are hosting a Smile, Enjoy! Masterclass Lunch in the Molly Rose private dining room with some of the festival's brewers. There are only 30 seats available and the lunch includes the Molly Rose Chef's Table experience paired with beers from breweries featured at the Smile, Enjoy! Festival. If people want to delve deeper into the art of pairing beer and food this is their chance.
Smile, Enjoy! Festival
Date: 12.11.23
Day Session: 11am – 3pm
Twilight Session: 3 pm – 8 pm
Where: Molly Rose, 279 – 285 Wellington St, Collingwood 3066 VIC
Tickets: $130, include: 150ml x 2 Beers + Food Pairing from each brewery. A Smile, Enjoy! Festival Plumm glass to use for the festival with the option to buy it for $15 at the end of the festival.
Smile, Enjoy! Festival Who's Pouring & Who's Cooking:
Range Brewing/Food: TBC
Bruny Island Beer Co/Food: Bruny Island Cheese Co.
Black Arts Brewing and Blending/Food: T.Cavallaro & Sons Pasticceria
Loophole Brewing Co/Food: TBC
Noodledoof/Food: TBC
Molly Rose Brewing/Food: Molly Rose
Smile, Enjoy! Masterclass Lunch
Date: 11.11.23
Time: 12pm – 3pm
Where: Molly Rose
Tickets: $150, includes the Chef's Table experience paired with festival beers.
This is an edited version of a media release distributed by Molly Rose Brewing.