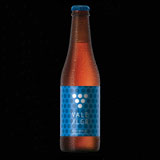 After a successful run on the taps, South Australia's McLaren Vale Beer Company has taken the plunge and decided to start bottling the blue-labeled VALE/LGR lager, and add it to its core range.
Head Brewer Jeff Wright says that the VALE/LGR blends old and new world traditions, and is "our interpretation of a new world craft lager, but with a nod to the old world traditions in the use of German Noble hops."
The VALE/LGR has medium carbonation, and the 100% malted grain profile is a combination of Pilsner, Carapils and Light Munich. The hops include the Noble German Tettnang, Australia's Helga and Pacifica, as well as Waimea from New Zealand. The result is a sprightly, refreshing lager that clocks in at 4.5% ABV and 25 IBU.
It's available in four packs and 24 packs from bottle-o's around the country, with an RRP of $13.99 per four pack.