2 February 2011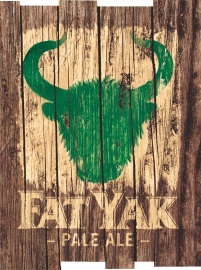 Two years on from the launch of Matilda Bay Brewery Co's Fat Yak, this North American style Pale Ale is one of the most popular craft beers in Australia. So the Matilda Bay team thought it was time Fat Yak started sponsoring major events and slapping its logo on high profile athletes known the world over.
Or Mongolian racing yaks.
You see, while Matilda Bay might be big in the little world of craft brewing they remain extremely small in the world of big beer bucks. So in 2011 Matilda Bay is investing its ENTIRE GLOBAL SPONSORSHIP BUDGET into Mongolian yak racing and sending one lucky Fat Yak drinker to Mongolia to race a yak and meet the superstars of yak racing like Naransteg, also known as 'the hoof master'.
If you're reading this and thinking Matilda Bay is taking the piss, you're wrong. Matilda Bay is DEAD SERIOUS about this promotion, as serious as they are about brewing great tasting beer and they've been scrimping and saving every penny to put toward some ads and promotional packaging to get as many Fat Yak drinkers to enter as possible.
The promotion officially got underway on 21 January 2011 and the entry mechanic is simple. When you buy a case of Fat Yak from the bottle-o or grab a Fat Yak at your local, you get a unique code to enter online at the microsite developed by Matilda Bay's friends at Clemenger (www.fatyak.com.au) or via SMS. Supporting this will be a new Matilda Bay Facebook fan page and branded materials for both on- and off-premise that include posters, coasters, table cards, fridge decals and header cards all designed to get people ready for some 'YAKTION!'
There'll be a handful of little 'big' ads on TV, starting the first week of February that won't exactly be screened in prime time but will hopefully be seen by tens of people (honestly, we're talking those new digital stations mostly aimed at guys) and you might catch some billboards around Sydney, Melbourne and Perth.
The TVCs were shot over two weeks in an extremely remote area of Mongolia inhabited only by nomads. In a break from the traditional production model, the team at Clemenger BBDO Melbourne used a skeleton crew consisting of only the creative team, DOP Jody Muston and two agency producers.
With no access to electricity or hot water, the crew slept in traditional Mongolian tents, bathed in mountain streams and ate barbequed goat for dinner. Extra content was created and filmed on the fly with the help of the friendly nomadic yak herders and the translation skills of a local fixer, Bat-Amgalan Lkha.
As they say in Mongolian yak racing circles – 'Gentlemen, start your yaks.'
Matilda Bay is one of Australia's leading craft breweries producing some of Australia's favourite specialty beers like Fat Yak and also, the full-flavoured and award-winning Alpha Pale Ale, the quirky Beez Neez, the wheat beer that started it all Redback and the salute to Oktoberfest Lagers, Big Helga. Traditionally Matilda Bay also launches a limited edition seasonal release for summer and winter. These have included Crema, Barking Duck, Barking Flamingo and most recently Longshot.
Head to www.fatyak.com.au or www.youtube.com/fatyakracing for more information and to view Fat Yak TVCs and videos.