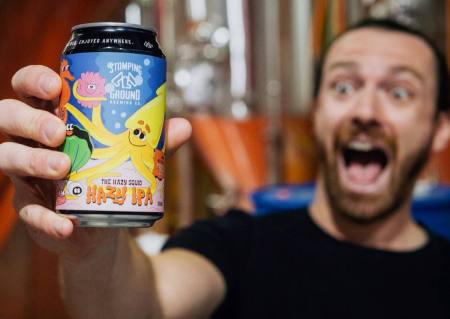 STOMPING GROUND BREWING CO. THE HAZY SQUID HAZY IPA (7.7%, 355ML)
It turns out Stomping Ground aren't just your friendly neighbourhood brewery that brings people together over beer but they're all good with squids joining the party too.
Their latest limited release is brewed in conjunction with Michael Boyer (pictured above) who's known to his over 3,000 social media followers as The Hazy Squid after he won a Stomping Ground Movember competition. Since 2017 the Melbourne brewery have been throwing their financial support behind the initiative that promotes men's health to the sound of $240,000. But most recently they enhanced their backing by offering the chance for a lucky winner and their mate to help brew a beer that would eventually be launched to the public for MayEight – Movember's annual celebration of mateship on May 8 while donating $5,000 at the same time.
And, mate, here it is complete with a squid in his element gracing the can art. Which is highly appropriate as Michael and his mate Matt who joined him must have been in their element too, as in keeping with The Hazy Squid's love for all things hazy this is just that and some.
Bold tropical fruit and coconut cream aromas set the scene for its easy drinking delights as flavours follow the nose alongside a citrus burst while mouthfeel is soft and smooth and back-end bite is evident but light and well balanced.
Why are giant squids always made so menacing in the cartoons? This beer should rewrite that narrative into something far more bright, friendly and inviting – much like the one on the can.