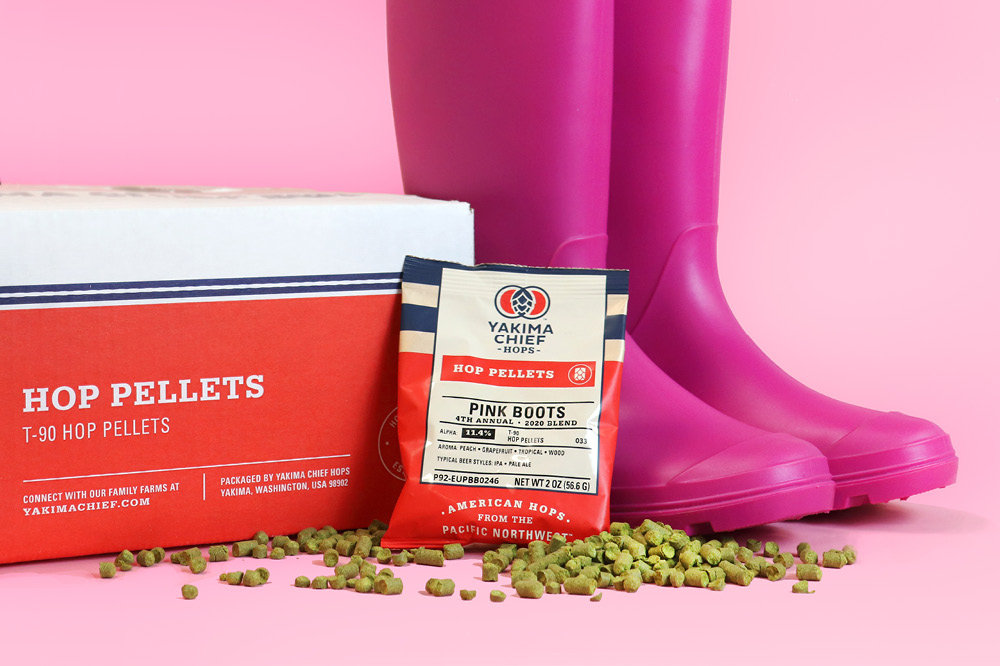 Next year will mark 10 years since the Australian chapter of the Pink Boots Society (PBS) was formed and local breweries can now start preparing to help celebrate with pre-sales being taken for Yakima Chief's latest Pink Boots hop blend.
Since 2017 the US hop supplier and Pink Boots have collaborated to select and commercialise an annual blend where a portion of the proceeds from sales go towards the PBS scholarship fund. To date, more than US $381,000 has been contributed which has helped provide educational opportunities to women in the fermented beverages industry with the goal of assisting with career advancement and leadership skills. The goal is to push that over US $500,000 with the latest release.
The fifth annual Pink Boots blend, which was selected with the help of the Australian chapter earlier this year, features Idaho Gem, HBC 630, Talus, Triumph and Loral. The expected brewing values are 12.5 per cent alpha, with expected aromas of citrus, sweet aromatics and berry.
PBS Australia President Tiffany Waldron told Beer & Brewer the support of Yakima Chief, and their Australian distributor Cryer Malt, meant a lot for the growth and the continuation of the organisation Down Under. Yakima Chief and Cryer Malt also make a separate donation to PBS Australia for the volume sold here. That presentation will be made at the PBS Australia AGM on October 21.
"These funds go directly into our mission to support women+ through education in the fermented beverages industry and to our scholarships. The wide availability of the hop blend also opens increased awareness of Pink Boots Society and what we're trying to achieve, both within the industry and for consumers."
With the likes of Brick Lane and BentSpoke hosting Pink Boots Brew Days this year, where they brewed beers for release that utilised the last Pink Boots hop blend, Tiffany said she hoped Australian breweries would get on board in 2022 and play a role in a planned year-long celebration.
"Not only is it the 15th anniversary for Pink Boots Society next year, but we'll also be hitting a milestone in Australia and celebrating our 10th anniversary. It honestly feels like yesterday that we were sitting in Beer Deluxe during Good Beer Week and creating Pink Boots. We're going to be so ready to celebrate in 2022 – expect to see Pink Boots finding ways to do so all year."
Tiffany Pitra, Yakima Chief's sensory manager, said: "The fifth Annual Pink Boots Blend starts with women from the ground up. This year's blend recipe is exciting because it features Idaho Gem, a variety developed by a women-run hop farm, Gooding Farms, in Parma, Idaho. The selection process was not only an opportunity to create a new blend, but also an opportunity for us to educate PBS members about sensory analysis and hop blending. Now it's up to breweries to brew beers with a purpose and promote the education and advancement of women in the industry. It's amazing to know this blend will raise money for an inspiring organisation and make delicious beer—that's truly something to celebrate!"
Australian and New Zealand breweries wanting to place pre-orders should contact their local Cryer Malt Sales Manager or Cryer Malt's Marketing and Sales Support Manager Steph Howard. The deadline for placing pre-orders is December 10.