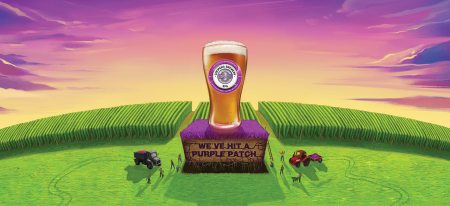 Coopers – the legends of Aussie beer and DIY brewing – have been kind enough to share their XPA recipe with us, so it's best you get your brewing gear ready and some XPA cans and get busy!
We've hit a purple patch. The XPA is a recent US beer style that sits somewhere between an American Pale Ale and an Indian Pale Ale and delivers a desired hop-forward experience.
With its famous Coopers Ale Yeast and Pale Malt character, Coopers XPA exhibits bright citrus undertones with aromas of grapefruit, lemon and a hint of mandarin. A hop driven beer like this is best enjoyed when it is young.
This latest addition to the Coopers family is only available at your local but you can also now brew the DIY recipe to enjoy at home.
And when we suggested you grab some purple cans for brew day, that's so you can refresh and then harvest the yeast straight from the can.
The Coopers XPA Recipe – Extract with specialty grains
(expected figures)
OG: 1.053
FG: 1.012
ABV: 5.4%
IBU: 37
Volume: 24 litres
Ingredients
1.7kg Coopers DIY Beer Australian Pale Ale
1.5kg Light malt extract
500g Light dry malt
400g Crystal malt grains
50g Simcoe hops
25g Lemondrop hops
Coopers Commercial Yeast Culture (or use the brew can yeast – a video on propagating Coopers yeast is available here.)
Method
The day before – line a pot (at least 5 litres) with a mesh cleaning cloth (pulled straight from the pack) or grain/hop bag.
Place all the grains in a plastic zip-lock sandwich bag and crack them using a rolling pin.
Add the cracked grain and 3 litres of cold water, fit the lid and sit in the fridge overnight.
Brew day – remove grains from the liquid, allowing it to drain back into the pot.
Place the strained liquid onto the stovetop, add half of the Light Dry Malt and stir to dissolve.
Bring to the boil, add 25g Simcoe and 12.5g Lemondrop hops and boil for 15 minutes and then remove from the heat.
Cool the liquid by placing the pot in a bath of cold water for about 15 minutes.
Add the Coopers DIY Beer Australian Pale Ale, the Light Malt Extract, the remaining Light Dry Malt and the cooled hop and grain liquid to the fermenter then stir to dissolve. Don't be concerned if lumps of Light Dry Malt persist as they will dissolve over the course of several hours.
Top up with cold tap water to 20 litres and stir thoroughly.
Check the temperature and top up to 24 litres with warm or cool water (refrigerated if necessary) to start the brew at 18°C.
Stir in the Coopers commercial yeast culture, fit the lid then let the temperature naturally rise to 18°C-22°C.
Place the fermenter in a location out of direct sunlight and ferment at 18° C to 22°C.
On day six, add the remaining Simcoe and Lemondrop hops (you could use a hop bag or similar).
The brew is ready once the specific gravity has stabilised over two days, expect about 1.012 to 1.015.
Bottle or keg as normal and allow to condition. This tasty little XPA will be at its best in 6-8 weeks – enjoy fresh!
Head to the Coopers DIY Beer website to find out more or to begin your own home brewing journey.
Contact Beer & Brewer by clicking here to share your news and views.