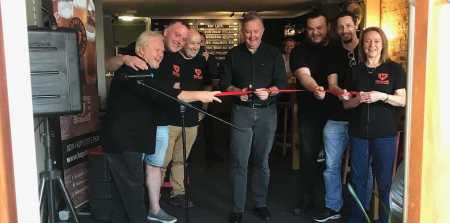 True to the central tenets of all cooperatives, Australia's first and only cooperatively owned brewery is riding out "a year from hell" the way it's meant to – with the spirit of togetherness and a common goal.
The Hopsters Co-Operative Brewery, co-owned and operated by almost 650 members, officially opened its Enmore Road taproom in Sydney's inner west on the first Saturday in September. It even had the member for craft beer himself, Anthony Albanese, on hand to cut the ribbon.
With that goal achieved they are now in the midst of planning their own on-site brewery at the back of the building where the taproom is located.
"It's been an epic journey in a year from hell," said Hopsters Chair and member number 23 Maya Engelbrecht.
"I can't believe we've got to this point to be honest with you, but here we are and we're open. We've made it through thick and thin and we're moving on to our next big dream."
Founded in 2016, Hopsters began commercial brewing operations in 2018 and has contract brewed its range of core beers and seasonals in the past at Dad & Dave's Brewing and Frenchies Bistro & Brewery and currently at The Rocks Brewing Co. They also utilise Wayward Brewing's former 200 litre system.
Its core range features the likes of a Pale Ale and an IPA while seasonal releases have included a cucumber saison and a lamington stout. The next seasonal is to be a saison infused with the palo santo herb.
The taproom, housed in the landmark Azzi fruit shop, originally opened its doors on March 7 this year. In a little over a fortnight it was closed again due to COVID-19 restrictions.
They forged on during Sydney's lockdown period, first via takeaway sales of growlers and then selling mixed cases online that were made up of beers sourced from regional breweries. (Maya: "Supporting others in need is the spirit of a cooperative.")
On June 1 they reopened under the then 10 person capacity limit and have been often putting the full-house sign up since. They pour their own beers and those of other independent breweries including La Sirene, White Bay and 3 Ravens.
"It was a really difficult period – everything was so uncertain," Maya said.
"But as restrictions have eased the taproom has gone from success to success and this is an incredible thing because everything is done by the members.
"It's always been my dream to own a brewery but you can't do it alone. We all have day jobs. We've got no trust funds. But we've done it through the power of numbers, cooperatively."
The taproom's sole employee and licensee is former Batch and Hawkers sales rep Mitch Hobbs.
The timeline for when they hope to have brewing operations brought in-house is up in the air for now as they draw up designs and navigate council planning.
But the added revenue from a successful taproom operation is seen as one of the ways they will achieve it.
"Our membership is growing steadily and has, I believe, grown by about 150 people each year since Hopsters was established," Maya said.
"We're a mix of business people, tradies, home brewers and beer lovers, but we all have a passion and we're moving towards our goal. This is our dream."
In his ribbon cutting speech, the leader of the opposition Mr Albanese said: "I think Maya sums it up when she says 'who doesn't want to own their own brewery?'.
"I am delighted to officially open this great initiative that supports other local businesses, employs local people, and brews great beers.
"It is really exciting to see over 600 members involved in working to achieve this great result to open their doors to the public in the middle of a health crisis.
"It is another great example of the community in our inner west working together to support each other and do great things."
To find out more about Hopsters, head to their website, or pay them a visit at 198 Enmore Road in Enmore from Wednesday to Sunday.
Contact Beer & Brewer by clicking here to share your news and views.