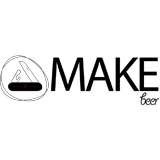 Melbourne's vibrant craft beer scene has a new player on the field, as Make Beer – a nano-brewery operating under the watchful eyes of partners Daniel Hall (ex Moon Dog) and Steven Germain (Phoenix Beers) – launches its first-ever brew to the public at The Alehouse Project in Brunswick East, on Wednesday 18 December.
If the description of their first beer is anything to go by, Daniel and Steven should have a pub-full of curious punters on the doorstep. Called Deep Steep, Make Beer is labeling the brew as a 'chamomile infused hop ale', which they say straddles the line between a pale ale and an IPA, with the aroma and flavour of chamomile worked into the beer.
Make Beer describes itself as an experimental brewing project, rather than a bricks-and-mortar brewing operation. They will be specialising in 50-100 litre batches, with a focus on the kind of one-off releases that the early days of craft brewing were famous for.
Daniel and Steve are aiming for a new release every month or so. To keep abreast of what's on the way, you'll need to check in at www.wemakebeer.com.au regularly, as the small batches won't last long once word gets out.
The Deep Steep launch kicks of at 5pm, at 98/100 Lygon Street, Brunswick East. For more details, check out The Alehouse Project website.