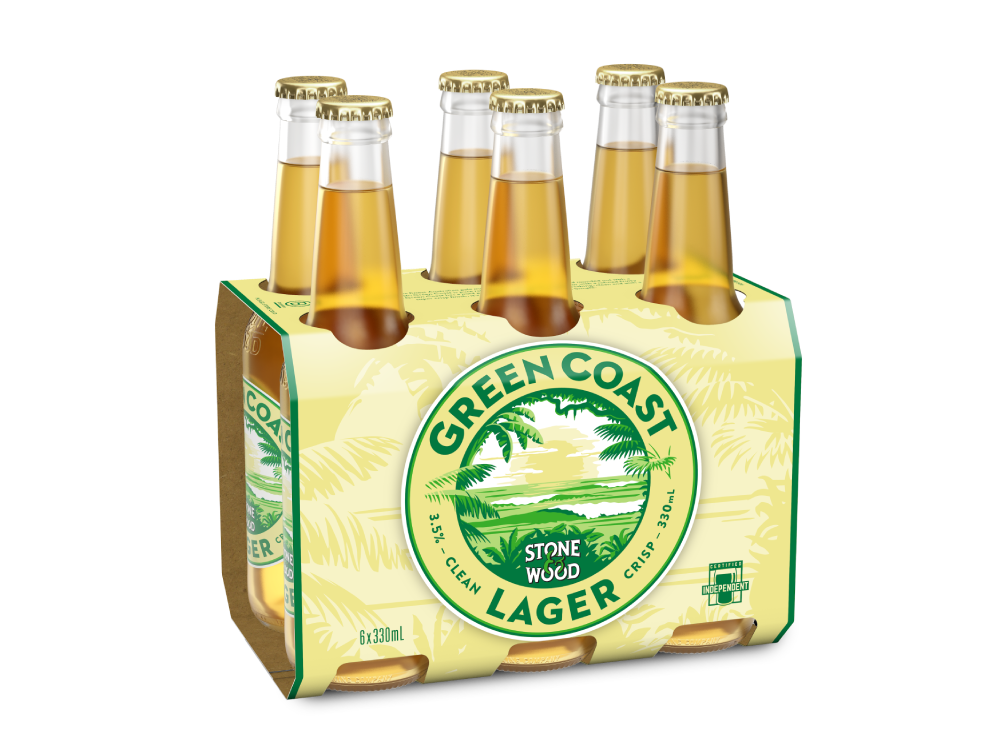 Crisp and sessionable, Stone & Wood's 3.5% Green Coast Lager is a modern, easy-drinking lager made for the beer lover who's seeking out something truly refreshing.
Brewed with the finest Australian pale malts, 3.5% Green Coast Lager is light golden in colour, mild to the palate and has a subtle bitterness. The delicate flavor of Saaz Hops rounds out the brew to a super crisp finish.
The official beer of The Wallabies, Green Coast Lager is made with life's simple moments in mind: the backyard BBQs with mates, an afternoon watching the footy and the well-earned cheers that comes at the end of a long day.
This easy-drinking brew joins the Green Coast franchise and sits alongside the original Green Coast Lager, a fuller-flavoured 4.7% lager.
On the release of the new Green Coast, Stone & Wood General Manager, Nick Boots said, "The dominance of this beer style in the Australian market has given us the confidence to expand our range into an exciting space, and we're eager to dip our toes into a what is a new brewing style for us.
"Australians are favouring such diverse flavour profiles, and with the addition of our 3.5% Green Coast Lager, we believe our portfolio covers all occasions. We're so proud to launch this beer as part of our official Wallabies sponsorship".
Refreshing, clean and crisp, 3.5% Green Coast is easy drinking lager at its best.
Simple.
Contact details
Stone & Wood Brewing
Byron Bay, NSW
(02) 6685 5173 trevor@stoneandwood.com.au
This is a sponsored content piece. To find out more talk to the Beer & Brewer sales manager.