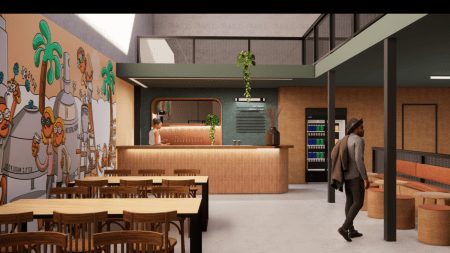 Local Brewing have received council approval to build a taproom and microbrewery in the inner Melbourne suburb of Clifton Hill and hope to be open by late April this year.
Founded in 2019 with a socially minded approach to help feed people in need through beer sales, Local Brewing had spent 18 months searching for the right location before settling on a former industrial warehouse on Hilton Street in the city's north east.
With help from local interior designer Janet McCulloch, who also helped design Two Birds Brewing's brewpub in Spotswood, the 75-person capacity taproom will feature 10 beers on tap while the brewery said "in time" it will also house a 1,500-litre small batch microbrewery for exclusive runs and an on-site pizza kitchen.
Co-founder Chris Cefala said: "The team had been looking for the perfect property for a while and the COVID period allowed us to have a think about the type of venue we wanted as the flagship for our brand. After a few protracted negotiations we identified Hilton Street, Clifton Hill as the perfect, yet unique location to take Local Brewing Co to the next level. The investment in a taproom is our vote of confidence in our product, brand and craft beer generally in Melbourne – we think our customers will love it."
Local said the build is due to commence in the coming weeks.