Queensland craft brewery Black Hops Brewing have raised $2.2 million in less than a day in the biggest crowd funding campaign ever conducted by a brewery in Australia.
The raise opened on January 25 to those who signed up during the expression of interest phase on the Birchal crowd funding platform. Care of 996 investors, where a significant number were either staff, customers, suppliers, re-sellers or current investors, it reached its maximum target in less than 24 hours – long before it had a chance to go public.
It's the second time Black Hops have turned to crowd funding to fuel their growth plans, with the brewery raising $400,000 in just six days back in January 2019. Since then they have become one of Queensland's biggest independent breweries, with two production facilities, four taprooms, a team of almost 100 employees and revenue over $13.5m in the last financial year.
Trailing their success in the GABS Hottest 100 Craft Beers of 2021, where their G.O.A.T Hazy IPA ranked fifth overall while a further six of their beers made the grade, this latest crowd fund also sees Black Hops pip Spinifex Brewing's recent $2 million crowd fund which was the previous highest raise of its type in the Australian beer and brewing industry.
This investment round will help fund the large expansion currently underway at Black Hops' main production brewery and the opening of Pine Ridge Distillers – their planned gin and whiskey distillery and 200 square metre venue to be located in a shed at their BHII location.
Black Hops are expanding the BHII brewery by doubling its footprint to cover 4,400 square metres, upgrading the packaging line to a new $3 million 24 head rotary CFT machine and semi-automated line and increasing capacity by 30 per cent to more than 10 million litres. It's all part of their goal of being Queensland's "largest independent craft brewery and one of the largest in Australia".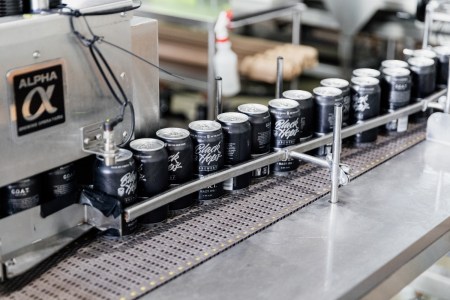 In a letter to investors yesterday following the successful raise, CEO Dan Norris said he and fellow co-founders Michael McGovern and Eddie Oldfield were "beyond humbled and extremely grateful".
"I'm totally blown away by the love we've had over the last week with constant emails, messages, social media posts and calls about the round and investing in our company," he said.
"If you weren't able to invest in this round I have to say sorry because we thought we set the maximum well and truly high enough to let everyone in. We were certainly not expecting to hit the max so quickly, I wasn't sure we'd hit it at all."
Having reached their maximum target of $2.2 million, here's the breakdown of how Black Hops said the money will be spent in their offer document:
Funds to finalise the canning line expansion: $470,000
Additional tanks and associated equipment: $1,130,000
Distillery fit out: $450,000
Cost of the offer: $150,000