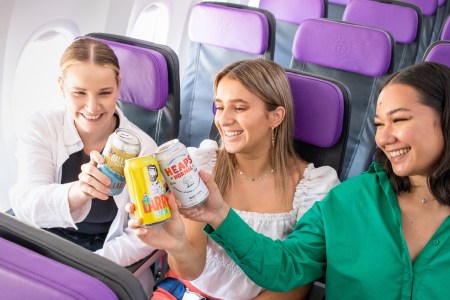 Local craft breweries Your Mates, Ballistic, Spinifex and Heaps Normal will feature on new low-cost airline Bonza's all-Australian in-flight menu once it gains the regulatory approvals to commence flying.
Announced today at Your Mates Brewing on the Sunshine Coast, Bonza said the brewing company's beers will help make them the first airline to offer an entire menu sourced from its home country.
"Our all Aussie menu is something we are very proud of. Going all Aussie means we are supporting local businesses and their suppliers. It also means we are helping SMEs get exposure to new markets as the entire menu will be offered on all of our 27 routes," Bonza's chief commercial officer Carly Povey said.
"Our team of legends have established a positive and productive relationship with the producers on our menu – many of which are creating bespoke packaging solutions that will help our efforts to reduce waste and weight onboard, which in turn helps reduce fuel consumption and keep flight prices low."
Alongside the likes of Your Mates' Larry pale ale and Heaps Normal's non-alcoholic Quiet XPA on the in-flight menu will be wine and spirits, soft drinks, cold drip coffee and snacks from other local producers.
Bonza said it will do away with onboard catering trolleys and instead its cabin crew will be assigned seat rows to look after during each flight. Customers will order and pay for items on the Fly Bonza app and have them delivered to their seats.
After launching in October last year and originally expecting to be flying early in 2022, Bonza is still waiting on the Civil Aviation Safety Authority to authorise it to take to the air. Once operational, it will be based on the Sunshine Coast and will stake its claim as a low cost airline that services the east coast. It has nicknamed three of its 737 planes Bazza, Shazza and Sheila.