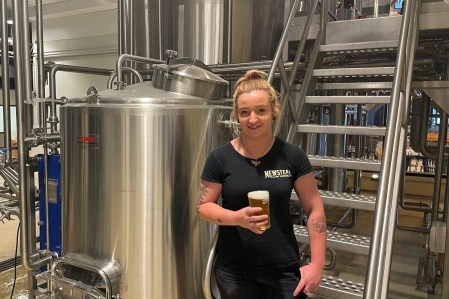 After a successful hospitality career, Kat Howes is brewing a new future since graduating as TAFE Queensland's Brewing Student of the Year.
Her curiosity for brewing beer began when Covid forced her to leave her hospitality job, move from Melbourne to Queensland and pull pints with Newstead Brewery Co. where she saw the in-house production of beer for the first time.
"I've always loved drinking beer but had never seen it being made, and the brew house process fascinated me. I was drawn to it," Kat said.
"So, I conned the head brewer into letting me work on the canning line, and I loved it. Over the next six months, I took on more responsibilities in the brewery, and they eventually took me on full-time."
One month into her new role, her manager suggested she'd enhance her skills by studying the Certificate III in Food Processing (FBP30121) with TAFE Queensland.
"Enrolling to study was a little daunting. I thought, 'do I want to (be a) 30-year-old studying?'. But TAFE Queensland made it easy, and education is so important. To have an intensive six-month course in Brisbane that allows you to keep working is incredible."
Taught under the guidance of teachers with decades of brewing experience in an industry-standard facility, Kat found the hands-on training was complemented by classroom theory, which gave her the skills to brew quality beer.
"We'd discuss the science of brewing on Mondays, and then on Tuesdays and Wednesdays, we'd put the theory into practice in the BrewLab. (It) was a great way to learn and retain the skills."
The two days Kat spent each week at the state-of-the-art Coopers Plains BrewLab helped her learn all the practical aspects of brewing beer using the lab's industry-standard vats, kettles, filters, canning lines and tanks.
"The practical training with the BrewLab equipment perfectly complements the theory. You can't have one without the other."
From wort production, fermentation, filtration, packing, and sensory and quality testing, she learnt the skills she needed to write, develop and brew beer, culminating in her making her own red IPA under the student beer label Froth Rookies.
"Brewing this beer was fun and working in the lab to create it was great. Red IPA is my favourite beer, and I created a punchy 7.8%. My teachers Kate and Hendo helped me write the recipe, which tasted much better than I thought it would."
Now a full-time brewer, Kat is responsible for brewing Newstead Brewing Co.'s range of beers and ensures each is true to the brand at 5,000 litres at a time – something she credits her TAFE Queensland qualification helping to prepare her for.
"Studying this course sped my development up and enhanced my skills tremendously. It would have taken years in a brewery to learn what I learnt at TAFE Queensland.
"The six months I spent studying accelerated my career, and I brought skills back to Newstead Brewing, and now I can run the operation."
TAFE Queensland general manager Brisbane Brent Kinnane said training the next generation of Queensland brewers to produce quality beer will help grow and improve Queensland's beer industry.
"We're proud to provide the industry with high-calibre professionals like Kat every year, who play an essential role in Queensland's hospitality industry.
"The goal of the Certificate III in Food Processing is to produce graduates who can hit the ground running to help grow and improve Queensland's beer industry.
"We know that highly skilled workers will lead to better beer and a better industry, and Kat is proof that we're on the right path to achieving that."
This is an edited version of a media release distributed by TAFE Queensland.