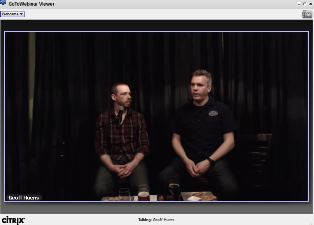 Beer Cartel's Geoff Huens and Dave Padden from Riverside during the online tasting
Beer Cartel,Flat Rock Brew Cafe andRiverside Brewing Company joined forces on Wednesday (Aug 19) for an Australian and world first; an in-venue and in-home online beer tasting called Sofa Sessions.
Led by Riverside's head brewer Dave Padden and Beer Cartel's Geoff Huens, the tasting was successfully broadcast from Flat Rock Brew Cafe in Naremburn, Sydney, with no delay or interference.
There were 18 beer enthusiasts at the Flat Rock tasting alongside Padden and Huens, with another 34 logged in online at home, tasting from packs sent out prior to the event.
"We had put a serious amount of time and effort into planning for the night, including testing all the equipment and set up. Like all things technical there is always a chance that things can go wrong on the night but we'd managed to iron out any bugs prior to the event and it went flawlessly," said Huens.
"People really got involved, the most I've seen for any beer event, and there was a lot of chatter/images on social media and a bucket load of questions coming in from those at home as well as those attending at Flat Rock Brew Cafe. We couldn't have been happier with how it all went."
Riverside's Dave Padden was satisfied with the tasting, especially as it allowed those interstate and unable to get to the venue to still get involved, taste and ask questions direct.
"We were thrilled to be part of the very first Sofa Sessions run by the guys at Beer Cartel. We have had a great relationship with Geoff and his team since Riverside kicked off in 2012, and the prospect of being part of a world first tasting concept was very exciting," Padden said.
"Traditionally beer dinners and tastings have been limited to our customers within the Sydney area, but the sofa sessions allowed us to interact live with our customers all over Australia, whilst simultaneously tasting and chatting about the beers. From our perspective the event was a raging success. We have already had plenty of extremely positive feedback about the beers and the event itself."
The next Sofa Sessions event is planned with the Yeastie Boys from New Zealand. It will be held on 21 October with spots again available at Flat Rock Brew Cafe as well as packs being sent out to people at home. For more information, click here.