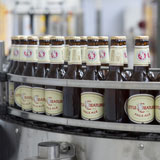 West Australian craft brewing powerhouse Little Creatures has opened up a brand-new, $60 million facility in Geelong, Victoria. The brewery is the third in the Lion-owned Little Creatures portfolio, and will double the brewing capacity of the brand, serving up an expected 1.25 million cartons of beer for the east coast of Australia in its first 12 months.
The Geelong facility joins the original brewery in Fremantle and the Healesville site, which is home to White Rabbit and Pipsqueak cider, also part of the Little Creatures family.
"Little Creatures is one of Australia's most popular craft beers, and our investment in this major new brewery at Geelong will allow us to meet the growing demand for the Little Creatures portfolio of beers now, and into the future," said CEO of Lion, Stuart Irvine. "Importantly, we'll be able to produce beer closest to where our future growth will come from – the eastern states. Beer is always best consumed fresh, and this allows us to provide fresher product to the eastern market."
Alongside the brewing operation, the new Geelong facility will also house a hospitality venue – the fourth for Little Creatures in Victoria. The venue will offer the complete range of Little Creatures products matched to a menu with a focus on share plates. The venue will also offer space for local artists to show their work, and there are plans afoot for an artisan's market to launch at the site in February 2014.
The brewery has been built using state-of-the-art German technology and features a number of environmental initiatives such as waste heat collection and a carbon dioxide recycling system. It also has a combined heat and power plant installed on site, which will eventually be used to create electricity on site, using the excess energy as a heat source in the brewing process.
The brewery is built on the site of Geelong's former Valley Worsted Mill – a 1920's textile mill with saw tooth red brick industrial styled buildings and a great sense of history. The historic art deco mill buildings have remained, with the brewery working around them.
Head of Craft Beer at Lion, Brett Grebert, said, "It's great that we've been able to take an old, unloved building and give it a new lease of life. Little Creatures is looking forward to being a part of the community in Geelong and we encourage local residents to come down and experience our world."
The brewery will be open to the public from Tuesday 10 December, 2013 – and open seven days a week. For more details, head to the Little Creatures website.