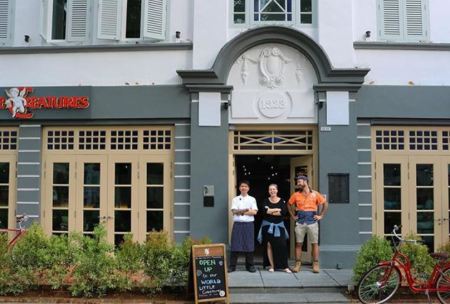 By Rachel Clark
Lion is expanding further into Asia with the opening of its second venue within Singapore, Little Creatures Mohamed Ali Lane.
The new Singapore venue, which includes a microbrewery and restaurant, opened its doors on 30 May. The newest addition to Lion's portfolio is part of a continued expansion of the brand after opening its first venue within Hong Kong, Little Creatures Kennedy Town in 2016.
"Now is an excellent time to step into the South East Asian market by creating a home for one of Australia's best loved craft beer brands in Singapore," said Matt Tapper, Managing Director of Lion Global Markets.
The new venue will be serving the full range of beer created by Little Creatures as well as the White Rabbit award-winning White Ale and James Squire Orchard Crush Cider, with the bonus of having the capability for brewing on site.
The new Singapore location shall hold up to 280 people based in Mohamed Ali Lane with a Mediterranean-inspired menu with a Fremantle twist, allowing a comfortable and casual dining experience and for "Little Creatures to offer Singapore something different".
Apart from adding another venue to the company's portfolio but Lion hopes that Little Creatures will be embraced by the Singapore community, providing a positive experience.
Matt Tapper also emphasised how the surge in demand for craft beer in the Asian craft market has allowed the product to flourish.
"We pride ourselves on the positive reputation that all of our venues across Australia and Asia have within their local communities," Tapper explains. "We're dedicated to continuing this focus, to ensure that Lion becomes an integral part of the local Singapore community as we provide great beers, a great menu and a great hospitality experience."
Beyond the expansion into Asia, Lion has also announced to add to the two-previous standing locations, that the next step will be to open a third location within London by the end of the year.