Big Shed Brewing Concern won GABS's Best Festival Beer while Devil's Brewery took the Best Festival Cider Award following a record number of votes at GABS Melbourne and Sydney.
More than 11,000 people turned out for GABS Sydney at the Sydney Showground – the first ever GABS event to completely sell out all sessions. The Yenda Ferris Wheel of Beer at GABS Melbourne and Sydney, along with Brewmanity's Brewer Ice Dunking, saw a record $18,500 raised to support the fight against Motor Neurone Disease, bringing the total raised over the last three years to $43,500.
Big Shed Brewing Concern, which is based in South Australia, entered the competition for the fourth time, with Boozy Froot, a beery NEIPA take on the Frosty Fruit ice blocks. The runners-up were Feral Brewing Co's Shooter McGavin's Breakfast IPA; Tom Collins Sour by Wolf of the Willows; Akasha's The Eagle IIIPA; and Australia Beer Co's 3yr Aged Bourbon Imperial Stout.
"The genesis of the beer came from working in the brewery," explains Craig Basford, co-owner of Big Shed Brewing. "The boys were getting hot and they'd go down to the shops and get a Frosty Fruit. We tried it and we thought it could work. All those tropical fruity flavours are very popular now. What if we put them into our beer. I reckoned the flavours could work together. That's what GABS is great for – having a crack at it."
Despite making Boozy Froot just the once, the response to the beer has prompted the brewery to make another batch, which will be put into bottles and kegs.
"It's really humbling," adds Basford. "We went to GABS a complete non entity in Melbourne. To with our first beer in 2015 and to watch it explode on social media was amazing. That finished third in the People's Choice. To have people choosing is amazing. There are judged awards out there, but to have the punter select the beer is great – they're the people we make beer for. They don't try to dissect or analyse it. To get enough of them to say 'we really like that beer' – we really rate that."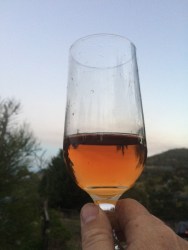 Of the 14 Festival Ciders at GABS 2018, Grandma's Jam Cider from Devil's Brewery in Tasmania took the prize. After finding a number of Tasmanian jams in the back of a cupboard, the Devils Brewery team set out to find more and make a cider with it. The runners-up were Tanninator by Wille Smith's Cider; Rochdale Mojito Cider from McCashin's in New Zealand; Grand Ridge's Twisted Sister Apple Cinnamon Cider; and Honey I'n Cider from Napoleone.
"The inspiration was seeing the back of my fridge at home, with half eaten jars of jam," explains David Tottle, head brewer at Devil's Brewery. "Seeing them crystallizing over the month, all that concentrated fruit and sugar – that screamed fermentation to me. So I got the call out on social media and got aroudn 100kg of jam sent over to us from followers. And we went from there. It has a typical cider base with local Tasmanian apples and then we put that fermentation off and added and the jams and some fruit as well. It took two days to filter! It was a nightmare. It was done for fun, and to reconstitute all that product that had had so much love and effort put into it.
"We had to get it lab tested because of the unknown quality of these sugars. It was amazing to see the particular years when they had had good seasons for particular fruits. My favourite was a medlar jelly from 1995 that poured like treacle. Our oldest contributor was a 90 year-old who's been making jam since she was old enough to stir a spoon. She had at least 60kg of jam.
"I went to GABS Melbourne last year as a punter and I was blown away. They do an incredible job. It's not a competitive environment – you just put it there and have fun. To win People's Choice was quite a surprise. It's certainly lovely to be recognised."