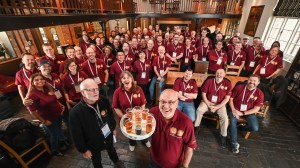 Four Australian brewers won medals at the UK's International Brewing and Cider Awards.
In total, 133 beers and ciders were noted as among the best in the world at the 130-year-old brewing competition – the oldest in the world. Medal winners ranged from small craft breweries from all corners of the globe to well-known brands such as Sierra Nevada, Samuel Adams, Camden Town, Deschutes, Fullers and Lion.
The competition attracted over 1,000 entries from over 200 breweries and cider makers from from 50 countries around the world and was judged by an international panel of 50 judges in nine beer categories.
BentSpoke won two medals the International Smallpack Ale Competition. First of all, Barley Griffin won the gold medal in Class 1 for Ale (2.9-4.4% ABV), then the ACT brewery's flagship IPA Crankshaft won silver in Class 4 for Ale (5.5-6.9% ABV).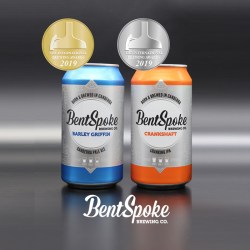 "We're really proud that Canberra is up there on the world stage," said head brewer and co-owner Richard Watkins. "In the ever-growing world of craft beer, holding your place in the podium finish is no easy thing."
XXXX Gold from Lion took the bronze medal in International Smallpack Lager Competition, Class 1 for Lager (2.9-4.4% ABV), while XXXX Bitter took the silver medal.
In addition, Lion's James Boag's Premium Lager took bronze in Class 2 for Lager (4.5-4.9% ABV) and James Boag's Wizard Smith's Ale took bronze in the International Smallpack Ale Competition, Class 3 for Ale (5-5.4% ABV).
Judging categories ranged from ultra-low ABV beers to high strength styles, showcasing the versatility and variety found in modern day brewing.
"It brings me great pleasure to announce the medal winners, and no small measure of pride to be involved in our fantastic industry," commented Ruth Evans MBE, director of Brewing Technology Services, who oversaw the awards. "These awards are a bastion of excellence, and we are always sincerely impressed by the talent of the medal winners.
"With each round of awards, the standards are pushed ever higher. Competition is fierce, and receiving a medal is an achievement to be truly proud of. My congratulations to all."
The judging panel was chaired by legendary Australian beer judge Bill Taylor, who was "blown away" by the talent on show.
"Being chairman of judging has been such a privilege. My thanks go out to my fellow judges, and to all those who are involved in organising these incredible awards, especially our technical installation team.
"We pride ourselves on ensuring that the integrity of any product submitted remains in peak condition, and that it is dispensed to our Judges at the brewers' and cider makers' recommended temperature. Judging and sampling the quality of entries has been a wonderful experience, and we have been blown away by the brewing and cider making talent that we have witnessed."
A full list of medal winners can be found here.