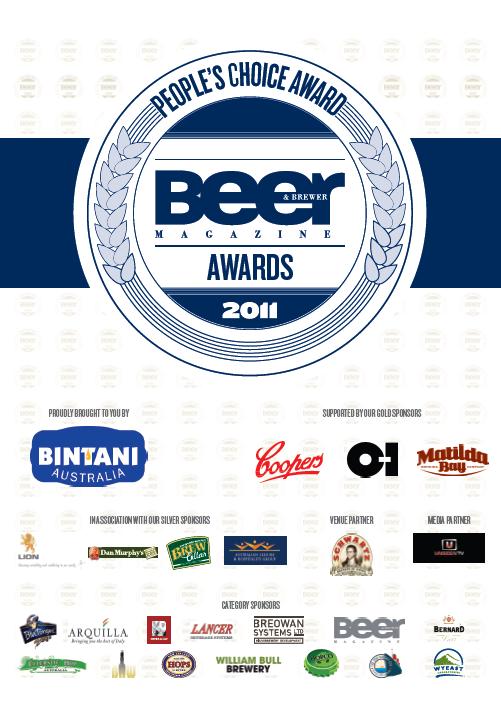 Today is the final day to book your ticket(s) to the Beer & Brewer Awards.
$99 Single, $890 Table of 10.
Dress: Cocktail
Address: The Sebel Hotel, 28 Albion St, Surry Hills NSW 2010 (near Central Train Station). Tel: (02) 9289 0000.
Beers and cidersto taste at the Awards include:
AMCE IPA Bernard range
Bluetongue Lager
Bluetongue Dapple Cider
Brooklyn Lager,
Brooklyn Brown Ale
Brooklyn East India Pale Ale
Celt Organic Pale Ale
Coopers 62
Coopers Clear
Celt Organic Pale Ale
Feral Hophog
Matilda Bay Fat Yak
Matilda Bay Beez Neex
Matilda Bay Dirty Granny Cider
Matilda Bay Alpha Pale Ale
Old Mout Apple Scrumpy Cider
Old Mout Boysenberry Cider
Old Mout Classic Apple Cider
Ottakringer XVI Vienna Lager
Pilsner Urquell
Pride of Oxford Golden Ale
Red Seal Amber Ale
Schwartz Brewery range
St Ambroise Apricot Wheat
St Ambroise Scotch Ale
Sapporo
Theresianer Wit
White Rabbitt Dark Ale
William Bull Red Angus Pilsener
William Bull William's Pale Ale
William Bull Lager
Wine is provided with thanks to De Bortoli Wines, including Sparkling Pinot Noir, White and Red Wine.
CLICK HERE TO BOOK ($99 SINGLE, $890 TABLE 10) FOR THE PRESENTATION DINNER.
Any bookings post todaywill need to call David Lipman to confirm if space is still available on 0415 081 285.
The Beer & Brewer Awards will be formally announced at a presentation dinner at The Sebel Hotel, Surry Hills, NSW, on 25 October 2011 from6 pm. All are welcome. A Trade Show will be held during the day, from 12 to 4 pm, showcasing brewing equipment, packaging, ingredients, beers and ciders for breweries and distributors looking to network with the retail trade. Entry to the Trade Show is free.
Forums at the Trade Show include the following with a panel of suppliers to present and answer questions:
1pm How to get beer (local & imported) to market – off-premise.

2pm Getting craft beer (local & imported) on tap.

3pm The challenges of starting and running a brewery.
Exhibitors at the Trade Show:
Bintani
O-I
Matilda Bay
Coopers
Lancer Beer System
Hopco / NZ Hops
Schwartz Brewery
Ellerslie Hop/ Progressive
Cryermalt
Arquilla
Beach Ave Wholesalers
The Spice Agency
William Bull
TW Industrial Instruments
Tap2Table
Beer & Brewer magazine
Note: Discounted accommodation is available at The Sebel, $139 Superior room and $159 Deluxe room. Simply mention Beer & Brewer Awards to gain the discount. Note these discounted rooms are now limited.

CLICK HERE TO REGISTER FOR FREE FOR THE TRADE SHOW.

Any difficulties with pre-registration please email admin@beerandbrewer.com or call 0415 081 285.