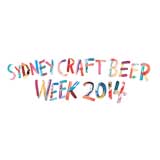 If you haven't registered your event for this year's Sydney Craft Beer Week, you'd better get your skates on, as applications for events close on 9 June, 2014. However, there will be a late registration period, from 10 June to 18 June, with late regos attracting a $150 late fee.
All events that are successfully added to the calendar will be notified on June 23, and the official program will be announced to the public on July 28, three days before tickets go on sale.
Organisers are expecting more than 80 events to be held across more than 40 venues around Sydney, with the festival running from 18 October to 25 October, 2014.
To register your event, head to the Sydney Craft Beer Week website.