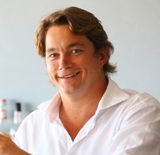 Cider Australia president Sam Reid
For the first time, Melbourne has been chosen as the destination for this year's Australian Cider & Perry Awards and 2014 Australian Cider Festival.
Cider Australia
president, Sam Reid, said while the events have previously been held in NSW, the organisation wanted to expand and celebrate the growing success of the industry across the country.
The annual event attracts around 50 of the country's leading artisan and boutique cider and perry makers, battling it out for bragging rights as the best product in the country.
"The awards are growing in stature in line with the expanding and maturing industry in Australia," Reid said. "We expect this year's awards to be even bigger and better, which is testament to the drive and dedication of our local producers."
The awards dinner will be held on Friday 10 October, with the 2014 Australian Cider Festival running that weekend, 11-12 October, in Ormond Hall at
The Village
, 557 St Kilda Road, Melbourne.
"It is exciting for us to feature Melbourne in this year's schedule of events and we are looking forward to announcing more details about judges and the awards program in the coming weeks," Reid said.