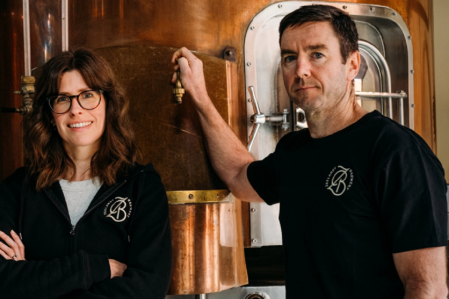 New Zealand's Zeelandt Brewery are releasing the limited edition Back on the Horse IPA to help raise funds for local organisations following Cyclone Gabrielle's devastating effect on their Hawke's Bay region back in February.
Luciana and Chris Barber's (pictured above) Eskdale brewery building, along with all stock and equipment, was destroyed by floodwaters as a result of the cyclone and have now temporarily moved to contract brewing their classic European styles in Auckland.
But managing director and head brewer Chris said they were launching the fundraising beer to benefit local first responders and their local community trust.
"Despite the Eskdale community suffering large losses, Zeelandt is in a position to help," he said. "With the generosity of our suppliers we are launching a new beer with all proceeds (after excise tax and freight) going to local organisations involved in the emergency response."
Back On The Horse can be purchased directly from zeelandt.co.nz with all funds raised going towards Bay View Volunteer Fire Brigade, Lowe Corporation Rescue Helicopter and Bay View Community Charitable Trust.
"We are so incredibly grateful for the love and support shown by Kiwis during the aftermath of the cyclone, and to our suppliers for getting behind this fundraising beer," Chris added.
"We hope that Hawke's Bay people will support Back on the Horse and enjoy drinking it, so we can donate as much money as possible."
The New Zealand-style IPA is inspired by a small wooden horse that remained standing on Chris and Luciana's property after the floodwaters receded.
Chris' father Les built the horse in the garden for his two grandchildren to play on and while the force of the floodwaters took away the sheds and cars that surrounded it, the horse remained.
To Chris, this was a sign that the only way for the community to move on from this event was to "get back on the horse".
The original version of this story appeared on our sister title The Shout New Zealand.