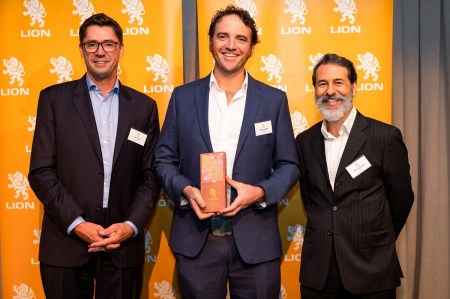 Lion has awarded its overall Supplier of the Year title to Hop Products Australia (HPA) at its annual Supplier Recognition Awards in Sydney on April 20. HPA also won the separate award for ingredients supplier of the year.
"HPA's commitment to delivering and maintaining the highest standard of products for use by Lion emanates through the brewery process and helps set our products apart in market," Lion chief supply chain officer Mauricio Ferreira said, who is pictured above on the right with Lion's CEO Sam Fischer (left) and HPA's national sales manager Michael Capaldo.
"We are grateful to all of our suppliers for the support of their incredible teams of experts and their partnership, particularly through the disruption of the past three years, and look forward to continuing our work together in the next growth phase of Lion's journey."
The category awards – across packaging, ingredients, logistics, engineering services and site services – recognise those suppliers who have performed the best in terms of delivery performance, quality, customer service and feedback.
Attending his first Supplier of the Year Awards since joining Lion last year, Lion Group CEO Sam Fischer paid tribute to Lion's suppliers and the strong relationships that underpin the company's Trans-Tasman operations.
"Our partnerships with suppliers are absolutely vital to our ability to brew and transport our products to pubs, bars, bottleshops and fridges in every corner of Australia and New Zealand.
"This is an opportunity for us to come together and celebrate strong and enduring partnerships, while also looking forward to opportunities to grow together into the future."
For the first time, the Awards recognised indigenous, women-owned or social enterprise suppliers through the inaugural Diverse Supplier Award, which was awarded to Gforce – a social enterprise based in Geelong which supplies temporary forklift drivers to Lion's Little Creatures brewery in Geelong.
Full list of Australia-New Zealand award winners:
Award: Packaging
Winner: Labelmakers Group Pty Ltd
Award: Ingredients
Winner: Hop Products Australia
Award: Logistics
Winner: Booths Logistics Ltd
Award: Engineering
Winner: Krones Pacific
Award: Site Services
Winner: Ecolab (Pest Elimination)
Award: Diverse Supplier Award
Winner: Gforce Corporate And Finance Pty Ltd
Award: Innovation & Sustainability Award
Winner: Visy Glass Operations Pty Ltd
Award: Supplier of the Year
Winner: Hop Products Australia
This is an edited version of a media release distributed by Lion.