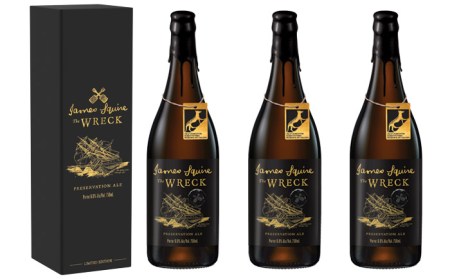 James Squire has announced the production of a limited run of 2,500 collector's edition bottles of its The Wreck – Preservation Ale, crafted with yeast from a 220-year old bottle of beer recovered from a shipwreck off the coast of Tasmania.
Until now the beer has only been available in keg, but for those who missed out at GABS – or haven't been into a James Squire venue recently – this is your chance to get your hands on a bottle and try this truly unique beer.
"The Wreck – Preservation Ale has an amazing story behind it, and the consumer interest in the beer has been phenomenal," says Gordon Treanor, General Manager Craft Brands at Lion.
"The kegs sold out in record time at James Squire venues across Australia prompting the decision to release a limited quantity of bottles for sale.
"We expect the interest to drive strong demand for the bottles so people will have to act fast. It will be some very lucky dads will receive The Wreck this Father's Day."
The retail launch will see 'The Wreck – Preservation Ale' bottled in a premium 750ml glass bottle, with gold embossed label and wax dipped seal, and packaged in a hard black casing.
If you'd like to get your hands on one, around 2,200 bottles will be allocated to Dan Murphy's stores nationwide from 20 August, with each of the limited edition packs to be numbered.
A small quantity of the packaged beer will also be available for purchase in Tasmania through the Queen Victoria Museum & Art Gallery in Launceston, which houses the 'Sydney Cove' wreck. The museum, alongside scientists from the Australian Wine research Institute, collaborated with the James Squire brewers to bring the historic and unique beer to life.
A percentage of sales of The Wreck beer will fund further QVMAG research into the Sydney Cove collection.