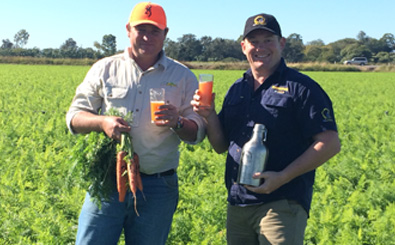 The next time your doctor tells you to boost your vegetable intake you can skip the fruit and veg shop and go grab a beer, a Wabbit Saison beer.
Ipswich craft brewer, Wade Curtis of 4 Hearts Brewing, has created Australia's first carrot beer, with about one carrot in every 285ml pot.
The seed was planted about a year ago when Curtis went to an open day at the Kalfresh Vegetables factory and when he saw how many wonky carrots were rejected he started thinking about how they could be used.
"I didn't even know if it would work," Curtis said. "At the Pumpyard Brewery we try to use a lot of local product and I saw carrots as a bit of a challenge for myself."
Curtis contacted farmer Richard Gorman, who jumped at the chance to merge two of his favourite food groups. The result is Wabbit Saison, a Belgian farmhouse saison that's 16 per cent carrots and 6.5 per cent alcohol.
"It has a small amount of European hops, wheat malt and Pilsner malt. The yeast is a traditional Belgian strain. The beer is fermented to about 80 per cent of its final gravity and we added approximately 200L of carrot juice. We also added pepper. The beer tastes like a good saison but with additional earthiness and spice plus I think we get some bitterness from the carrot. It's also bright orange!" said Curtis.
With a carrot in every glass, there's a chance the beer is potentially even 'good for you'.
"Everyone knows the benefits of carrots in terms of eye sight and beta carotene. The question is whether the beta carotene survives the fermentation process," said Curtis.
"It's got to be better than drinking other types of beer. A lot of customers have already asked whether this counts as their daily intake of vegetables."
Launched at last month's Great Australasian Beer SpecTAPular, Wabbit Saison is now on tap at 4 Hearts' Pumpyard Bar in Ipswich and will be heading to bars in Brisbane and the farmer's local in Kalbar. The beer will also be showcased at the Winter Harvest Festival in Aratula on 4 July.