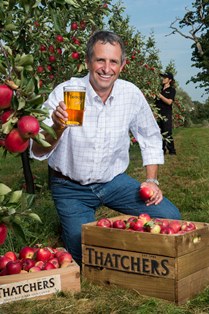 Thatchers' MD Martin Thatcher
An English cider has taken out `Best in Show' at this year's Australian Cider Awards.
Thatchers Gold Cider, which is kegged by Coopers Brewery and distributed in Australia by both Coopers and Premium Beverages, was celebrated at a gala ceremony attended by more than 100 industry members from around Australia and overseas at the Kelvin Club in Melbourne's CBD.
Thatchers Gold won three trophies – Best in Show, Best Cider and Best International Entry, while the top Australian entry and winner of Best Perry was Yarra Valley-based Napoleone Cider, with its Napoleone Methode Traditionelle Pear Cider.
The Australian Beer Company's recently launched lower alcohol cider Pressman's Mid won Experimental Cider/Perry, while The Apple Thief Pink Lady Cider took out New World Sweet Cider.
The crafty cider makers at New Zealand's Zeffer Cider Co. took home three Best in Class awards; Zeffer's Crisp Apple Cider and Slack Ma Girdle Cider took out the New World Dry Cider category and Traditional Dry Cider category respectively, while the Zeffer Pear was the winner in the New World Dry Perry category.
Judges, chaired by Gary Baldwin and with guest New Zealand expert Malcolm Reeves providing an international perspective, spent two days tasting almost 150 entries across a record 17 categories.
"The Best in Show was chosen by the judging panel as it showed complex spiced apple characters and aromas with some development – a lovely example of a medium cider in the traditional style," said Baldwin.
A record number of Australian entries were received this year, over 10 per cent more than last year – with almost 150 entries in total across 17 categories.
"The cider category in Australia is continuing to show strong growth, as is the quality of many locally produced ciders which is great news for cider drinkers," said Cider Australia president Sam Reid.
List of 2014 Winners
Trophies
Best in Show, Best Cider & Best International Cider/Perry – Thatchers Gold
Best Perry & Best Australian Cider/Perry – Napoleone Cider Methode Traditionelle Pear Cider
Best in Class Awards
1A New World Dry Cider – Zeffer Cider Co. Crisp Apple Cider
1B Traditional Dry Cider – Zeffer Cider Co. Slack Ma Girdle Cider
2A New World Medium Cider – Kangaroo Island Ciders Colony Cove Draught Cider
2B Traditional Medium Cider – Thatchers Gold
3A New World Sweet Cider – The Apple Thief Pink Lady Cider
3B Traditional Sweet Cider – Seven Oaks Farmhouse Cider Bramley Seedling
4 Bottle Conditioned / Methode Champenoise Cider – Core Cider Company CORERUPTED Methode Champenoise Cider
5A New World Dry Perry – Zeffer Cider Co. Juicy Pear
6A New World Medium Perry – The Hills Cider Company Pear
6B Traditional Medium Perry – Hillbilly Pear Cider
8 Bottle Conditioned / Methode Champenoise Perry – Napoleone Methode Traditionelle Pear Cider
9 Ice Cider/Perry – Small Acres Cyder Pomona Ice 2012
10 Fortified Cider/Perry – Small Acres Cyder Pommeau 2009
11 Experimental Cider/Perry – Australian Beer Company Pressman's Mid