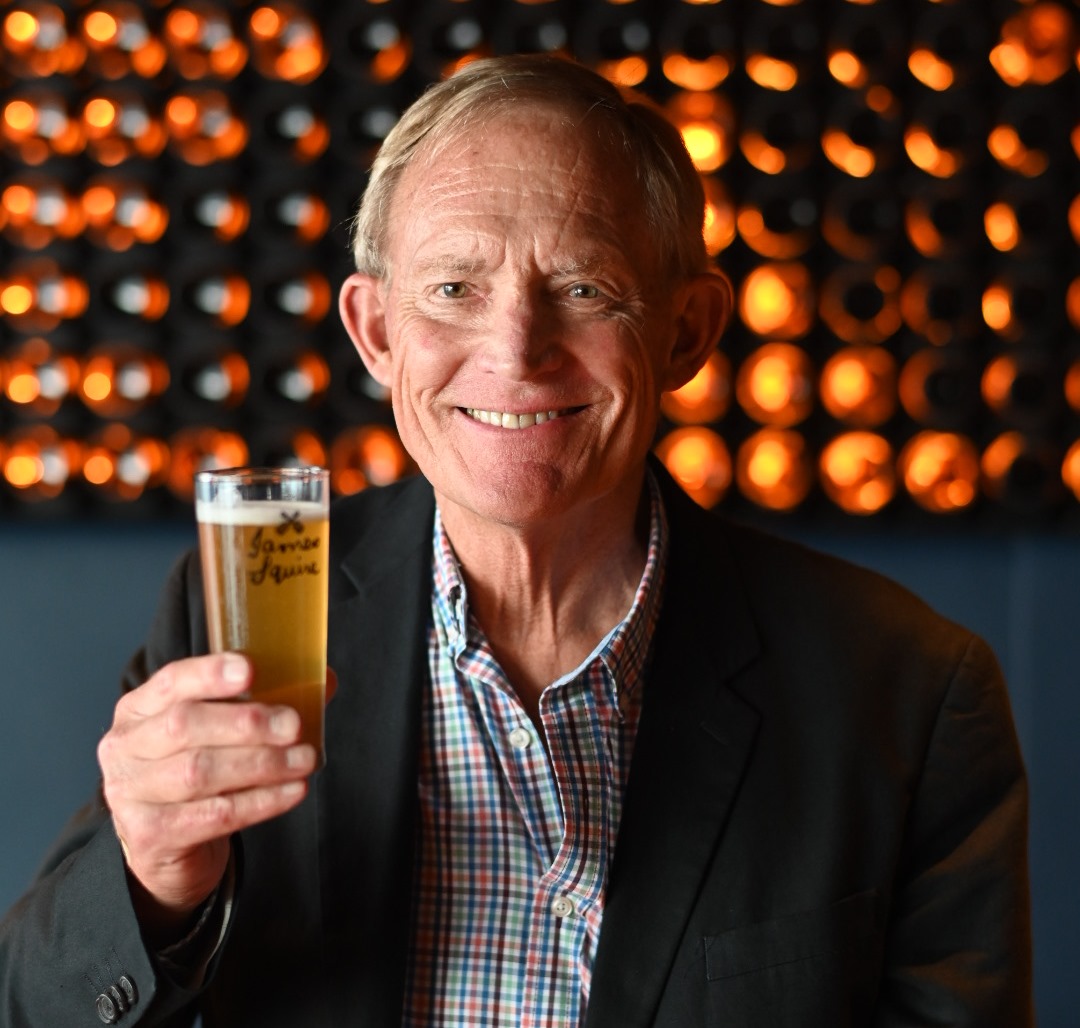 After two previous attempts were COVID-cancelled people from across Australia's beer industry and beyond were finally able to gather this week to celebrate Chuck Hahn's 50 years in brewing.
The event took place at Squires Landing in Sydney, with many of those Chuck has mentored throughout his career joining the celebrations.
Lion's Managing Director, James Brindley spoke on the night, saying: "If you look at Chuck's achievements he's created billions of dollars of value, so from a business point of view, that's incredible. And with all due respect to the other fabulous craft brewers here, he is the founding father of craft beer in Australia.
"Also, the amount of people that he has mentored and coached and imbued with his sense of love for beer and his curiosity, and they have all gone off to establish their own breweries, I think that's probably his greatest legacy.
"It's a pleasure to work with Chuck, it's a pleasure to have him as my boss – even though that's not what the org chart says – what a fantastic person you are Chuck."
It's a sentiment that was carried through the night, the sense of joy at celebrating Chuck's career was fundamental. Everyone there was fortunate enough to have encountered and experienced Chuck's enthusiasm in some way and everyone wanted to celebrate Chuck.
Malt Shovel's Head Brewer Haydon Morgan said: "At Malt Shovel Brewers, we've got an honour roll and every brewer that's on that roll is very proud and esteemed to be on there. Chuck is number one, when it was the Hahn Brewery and Tom is our latest brewer and he's in the 60s.
"If you go through that honour roll, within the industry, we've got people who have worked in breweries all around Australia and that comes from Chuck's mentoring and being involved with people, and from a Malt Shovel point of view, we all appreciate that and love Chuck for that."
The evening then heard from the guest of honour himself and Chuck explained, just what has driven him through his career.
"Fifty years is a long time in one profession, and it's been an interesting 50 years in beer, the main thing I want to say is that all of the accomplishments that we've just heard about have been real team efforts," he said.
"I haven't been sitting behind a desk directing the efforts. I have been involved in tasting, training, perhaps being a little disruptive at times, but leading the pack with ideas.
"I started in quality control in R&D at Coors where I was really able to learn all the aspects of the brewing operation, but one thing I remember is I developed standards back then that still carry through to today.
"I remember in the late 70s Bill Coors, of the Coors Brewery family, had a really simplistic mission statement for Coors and that was just 'make good beer'. Do your best by design, by recipe, by process to make good beer, and that has been my mission throughout my life is to make good beer; not to make a hoppier one, not to make a fruity one, but just to make good beer and that's what we are all about, making good beer."
Hard to argue with that, congratulations on a fabulous 50 years Chuck from everyone at Beer & Brewer, The Shout and the wider Intermedia company, long may it continue.
This article originally appeared on our sister title The Shout. To read more about Chuck's 50 year brewing career, see Beer & Brewer's feature from earlier this year.