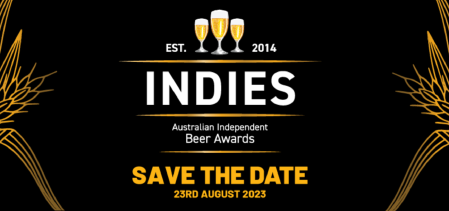 The independent beer industry is full of characters that go above and beyond on the daily to make it what it is. But if you had to pick a few standout figures in just a few specific categories, who would they be?
With their 2023 Independent Beer Awards set to be celebrated on August 23, the Independent Brewers Association (IBA) is now calling on their members to put forward who they think are worthy of receiving this year's peer nominated trophies.
Before July 20 any IBA member can nominate individuals, groups or a business in the following categories:
• Service to the Industry – presented to an individual who has made an outstanding contribution to Australian independent beer.
• Young Gun of the Year – presented to an employee of an IBA member, who is under 35, a high achiever, a strong promoter of indie beer and who has a collaborative nature.
• True Indie Supporter – awarded to a retailer, publican or bar operator that strongly supports indie beer, via advocacy or marketing and promotion.
Head here to make your nomination.
At last year's awards, publican of Adelaide venue The Wheaty Jade Flavell (pictured above on the right) won the Service to the Industry award, Young Gun went to Emma Locke – venue manager at WA's Beerfarm – and the True Indie Supporters were Kieran Yewdall and Michael Shaughnessy from The Catfish Tavern.
This year's winners will be announced at The Indies awards ceremony on August 23 on the Gold Coast. To have your beers in the running at the awards, entries need to be in by June 30.