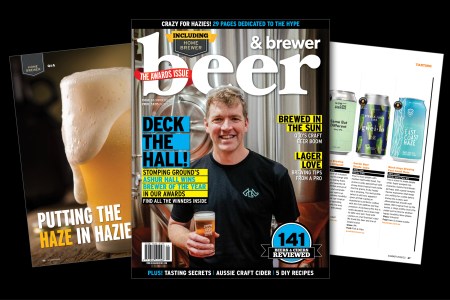 The Summer edition of Beer & Brewer magazine is out now where we recognise achievement in the industry with our annual awards, dish up a definitive guide to hazy beers in Australia, chart craft's explosion in Queensland and so much more.
You can subscribe via our website or find this issue in newsagents and home brew shops.
The 2022 Beer & Brewer Awards lead Summer's coverage, where our judging panel and the general public decide the winners across the five categories of Lifetime Achievement, Brewer, New Brewing Company, Beer Venue and Brewpub of the year awards. You can access all of our Awards online coverage here.
With 29 pages dedicated to the hype, we also take an overarching look at hazy beers as we chat to some of the key exponents of the style, road test a huge number in our tasting section and provide insights and recipes for all you home brewers out there.
Take a look at just some of what's inside the Summer 2022/23 edition:
Also in the Summer edition
Pro brewer Steve Brockman guides you through brewing crisp, refreshing lagers.
Sensory analyst Briony Liebich discusses the multi-sensory experience of tasting beer.
141 different craft beers and ciders reviewed in our biggest tasting section ever.
The dedicated HomeBrewer section continues our hazy beer theme as our resident guru John Palmer skills you up on brewing them better while the section's Editor Jake Brandish harks back to the original hazy – the hefeweizen. We also deliver multiple DIY recipes and tips from those in the know.
Those who have been on the inside tell us why and how the Queensland craft beer scene has exploded in recent years.
We take a much overdue look at the state of Australian craft cider and find out it's in very capable hands indeed.
Plus plenty more.
Subscribe to Beer & Brewer's quarterly magazine for as little as $29.50 a year.