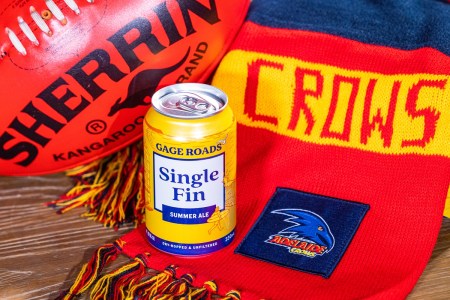 Good Drinks Australia is now the exclusive supplier of beer, cider and ginger beer to AFL side the Adelaide Crows.
With Good Drinks already having exclusive pourage rights in place at Perth's Optus Stadium, the company's brands Gage Roads Brew Co, Matso's and Hello Sunshine will now be available at club functions and throughout premium areas at Adelaide Oval on match days. The beverage company's brands will also feature prominently on signage on match days at the Crows' home venue.
In March last year the Crows announced that Mighty Craft brands Mismatch Brewing, Hills Cider and Adelaide Gin Distillery would be their official beer, cider and gin suppliers. Their new gin supplier is South Australian gin distiller Prohibition Liquor Co.
Good Drinks' managing director John Hoedemaker said the partnership was "an exciting and important part of (their) ongoing brand-in-hand marketing strategy".
"Good Drinks Australia is proudly independent, and we're excited to throw our full support behind the Adelaide Football Club.
"I am extremely happy to see this partnership come to fruition. Our team are pumped to support the club, engage local beer lovers, and have some fun along the way. We have no doubt this will be a partnership that truly thrives. Partnerships like this are an exciting and important part of our ongoing brand-in-hand marketing strategy. It's a great opportunity to showcase our range of brands and products to South Australians.
"We can't wait for them to enjoy a Gage Roads Brew Co Single Fin Summer Ale, which is Australia's leading craft beer in its category, or a Matso's Ginger Beer, which has grown to become the country's number one independent ginger beer."