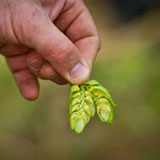 Hop Products Australia (HPA) has commenced a major replanting of its hop fields in Tasmania and Victoria, as part of a long term strategy to meet the growing demand for its proprietary, specialty hop varieties. HPA says that the replanting effort will involve 20 percent of its current acreage, and will require the propagation of nearly 200,000 hop plants.
The demand for specialty hops has increased dramatically in recent years, with Australia's panoply of craft breweries leading the charge. HPA expects that the replanting, alongside further capital investment and development, will result in a 40 percent increase in production over the next two years. To help manage the increased demand and output, for Moo Brew Head Brewer Owen Johnston has been appointed Sales and Marketing Manager for HPA.
HPA Managing Director Tim Lord said; "For decades, hop production was dominated by mainstream bittering hops – very much a commodity product for the brewing industry. For many years, we've been breeding and trialling proprietary hop varieties to discover hops that are perfectly suited to the Australian climate and growing conditions."
"We are very proud of the fact that our exclusive varieties such as Galaxy®, Ella®, Topaz®, Summer® and Vic Secret® are making a significant contribution to the development of the craft beer sector here and overseas," he concluded.
For more information, visit the HPA website.