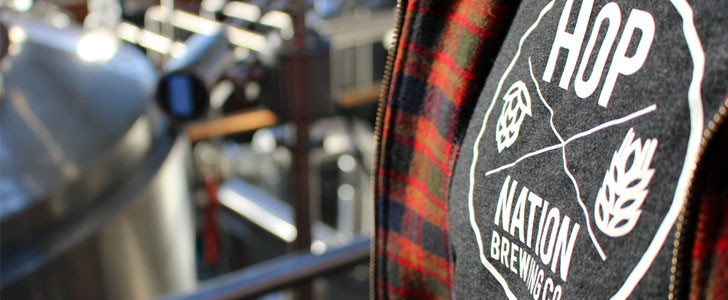 Hop Nation Brewing Co. has kicked off its nation-based IPA series, with the release of its first beer, The Fiend, an Australian IPA.
"Our IPA series is showcasing not only the glorious ingredients in beer, but also the origin of the ingredients. With hops as the focus, we have a few beers in the works including a rye IPA, which uses the best hop varieties coming out of the USA and a dark Cascadian using the unique hops coming out of New Zealand. These beers should roll out as the year progresses," said Hop Nation's co-founder Sam Hambour.
Longtime winemaking friends, Hambour (Mornington Peninsula's Paringa Estate) and Duncan Gibson (Yarra Valley's Yering Station), started the Melbourne-based beer company last year.
"We are looking to specialise in variations of IPA but different seasonals may enter our portfolio as time goes by," said Hambour.
"At the moment we are brewing out of another brewery, until we get enough cash flow to build our own. However, we are currently looking into licensing a premise to get the ball rolling on a 'cellar door'."
With 35 international harvests between them, Hambour and Gibson travelled to beer-loving places like Germany, the United States and New Zealand, where they were exposed to different styles of beer. These experiences inspired the pair to brew a beer with the same focus found in winemaking. This meant using quality ingredients with a nod to their single origin.
"The Fiend is the first beer released by Hop Nation Brewing Co. It is 100 per cent Australian hopped in an endeavour to capture the unique flavours that Australian hops have to offer," said Hambour.
"The Fiend is a beer we have been perfecting for more than a year and is a tribute to the fiend in all of us. It represents our thirst for making and drinking fresh, hop driven ales."
The Fiend (5.4% ABV) has been made with all Australian hops with Galaxy, from Hop Products Australia's 2015 harvest, as the main ingredient. The nose has floral and citrus aromatics that are complemented by a crisp malt profile and an apparent but balanced bitterness.
The Fiend is currently available at a number of stockists including; Carwyn Cellars, Grape & Grain, Beerbud, Beer Days and Paringa Estate.
Written by Daria Kurilo and Annette Shailer