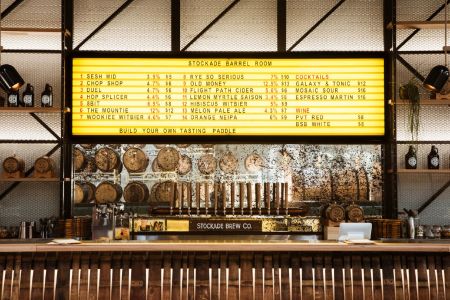 Stockade Brew Co recently opened the doors to its new brewery and bar in Marrickville, debuting with a range of unique hop-infused cocktails and an exciting beer infusion device to supplement the beer selection.
In addition to its core range of beers and popular limited edition brews like The Mountie, Stockade are serving several cocktails that are not only inspired by hops – drawing on their flavour and aroma characteristics of citrus, pine and floral notes – but are made using them, infusing hop pellets with raw spirits to create bespoke, hop-infused liquids.
"The idea is to incorporate the hops that we use in our beers into the cocktails," Jonni Cocks, venue manager at Stockade, told Beer & Brewer.
"After some experimentation we've decided to use hop pellets… we take the gin and vodka, wrap the pellets up in a coffee filter, tie it all up with string and then it sits in there for about three days, infusing and taking on the colour of the hops.
"For our gin we've used El Dorado and Galaxy hops, and in the vodka we use a Mosaic hop. Eventually we'll get into some bigger stuff because we're getting our own still, so we'll be able to undertake this process in the raw stages of making our own gin and vodkas, rather than infusing hops with the end product."
For now though, Manly Spirits are supplying the bar with the base spirit. After infusion, the two concoctions are used to create a 'Mosaic Sour' (Mosaic hop-infused vodka, lemon-grapefruit juice, a chickpea-based and "vegan friendly" egg white substitute, complemented with a strawberry and raspberry sherbet) and a 'Galaxy & Tonic' (Galaxy and El Dorado hop-infused gin, homemade "botanical" tonic, served with sugar-soaked dehydrated lemon).
"We also do a coffee liqueur for our espresso martinis, using a very simple recipe with a few secrets in there," he says. "It's a strong and boozy coffee liqueur, where we just add fresh espresso and make a reduction using our Old Money bourbon barrel-aged imperial stout, reducing that to a syrup, adding a bit of sugar to bring out the sweetness. The idea is to impart the bourbon, oaky characters from the Old Money to enhance the espresso martini."
Stockade are also making use of the Dogfish Head-patented 'Randall' device in the bar; according to Cocks, they're the only ones using the Dogfish Head version in Australia.
The device was invented to infuse and impart the taste and aroma of fresh hops into a beer as it comes out of the tap. The first chamber is filled with fruit, spices, or fresh hops, while second chamber diffuses any foam generated by the first chamber; an outer tube also holds ice to keep the beer cold.
"It's all about taking a base beer and doing something really experimental and creative with it," explains Cocks. "We've already run a wheat beer through it with hibiscus in the first chamber, imparting a really nice sour tang; pineapple and lime in the chamber paired with our pale ale, and more recently we ran our Hop Splicer Grapefruit XPA through the Randall with extra grapefruit – which was fantastic, adding a really beautiful, fresh hit of grapefruit."
On the food front, Stockade Brew Co have created a monthly changing line-up of collaborations, with Baby Rey's confirmed for the brewery's opening month. Following Baby Rey's tenure, pan-Asian BBQ truck Tsuru will take over in August, before Grease'n'Grind burgers in September and La Raza Mexican Cantina in October.
Hop cocktails, beer infusions and barrel aged brews; did you really need another reason to check out (or return again) to Marrickville?