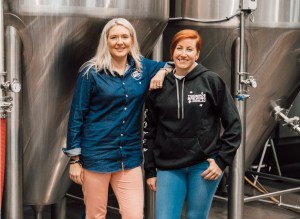 Two Birds Brewing is celebrating its seventh birthday with the launch of a birthday beer and 17 events across Australia as part of its Festival of the Bird.
Starting on 14 June at The Grain Store, Newcastle, the tour has seen the brewery take over taps at Monte's Lounge, Alice Springs; The Two Birds' Nest, Spotswood; The Stoned Crow, Crows Nest; 1989 Arcade Bar & Kitchen, Newtown; and Royal Albert Hotel, Surry Hills.
Further tap takeovers are planned at The Catfish, Fitzroy; Bar Josephine, Footscray; Welcome Hotel, Rozelle; Beer DeLuxe, Federation Square; Lola's Pergola, Darwin; The Sail and Anchor Pub, Fremantle; Bob's Bar, Perth; The Cambrian Hotel, Bendigo; Terminus Hotel, Fitzroy North; Wheatsheaf Hotel, Adelaide; and Netherworld, Fortitude Valley.
"It's been really fun, of course," says co-owner Danielle Allen. "I think having the beers that we've got available at the moment has been really exciting for us. We're selling a really broad spectrum of beers, so it's a good excuse to out and do showcases with multiple taps. We've had a great turnout for all the events so far. It's really exciting. People who've been with us on the journey since the start have come – the support has been amazing. They're so passionate about what we've done and feel like they're part of it as well."
To celebrate the brewery's seventh brewery, Two Birds created a birthday beer.The previous year, the birthday beer's theme was wood and they aged the beer in an oak barrel. This year, the team has gone with copper. Owners Jayne Lewis and Danielle Allen turned to a musical influence for a name, naming it after a line from one of The Sound of Music's most well-known songs, My Favourite Things. 
"We started a bit of a theme last year, doing a beer inspired by a traditional gift on an anniversary," says Allen. "This year is copper, so we wanted to do a copper-coloured beer, and we thought we could achieve that copper colour using rye. They're quite on-trend at the moment, rye beers."
In addition to the birthday beer, Two Birds has also added to its series of Continental Collaborations, created with two London breweries at Good Beer Week. With Fourpure Brewery, Two Birds created Nuggest Session Pale, while with Wild Card Brewery, the new creation was a double dry-hopped double IPA called Wild Bird and made with Australian hops including Cascade and Galaxy. With an ABV of 8.4%, this is the strongest beer that Two Birds has ever created.
"Wild Card Brewery has a female brewer called Jaega, and you can't get much cooler than that," says Allen. "That was a really fun one. We actually visited Fourpure's brewery a few years ago when they were first starting out with a small canning. One of their brewers [Jaime Clowes] is now one of our brewers. She left London at the end of the year and joined us, so that was really fun for her to work with her old brewery."
Reflecting on the seven years since Two Birds was founded, Allen states that the beer landscape has changed drastically, with more breweries than ever and people carving out specific niches and points of difference.
"It's about getting that point of difference and leaning on that, as opposed to just putting out a brand and a beer and expecting it to be bought," she says. "Our point of difference is being the first female-owned brewery in Australia and that's becoming more and more relevant as time goes on. It's something we've been proud of. We want to stake our claim because we were the first and we can't lose sight of that.
"We're just hiring a couple of additional people in sales at the moment. We've got capacity so we just want to put the accelerator down and get more beer out into the world. it's a sales push for us. We've also just invested in a new quad tank, so we've got the room to make this summer a really big one for us."